Justice Benedict Agbata of the Enugu State High Court today adopted earlier conditions by Justice E. F .Olayiwola of the Federal High Court Lagos in charge N0. FHC\L\09\07 made on November 6, 2007 and granted ex-Governor Chimaroke Nnamani of Enugu state and Jacob Nwatu bail in a Suit. N0. E\76\2011 FGN versus Chimaroke Nnamani, Jacob Nwatu and four others.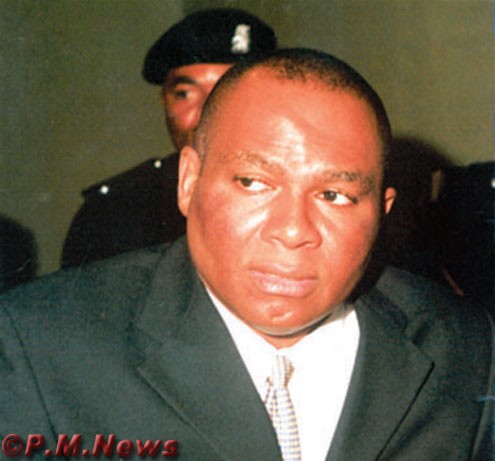 Counsel to the first accused Rickey Tarfa(SAN) in a 21-paragraph affidavit dated 26 May cited sections 35, 36 of the 1999 constitution and Section 118[2] of the Criminal Procedure Act under the inherent powers of the court allowing Senator Nnamani to continue on bail granted by the Federal High Court Lagos in Charge N0. FHC\L\09\07 ON 6\11\07 in respect of the information pending the determination of the case.
Second, he pleaded on liberal terms pending the trial and third a 21-paragraph affidavit showing compliance with the order of the Federal High Court.
But the prosecution counsel Kevin Uzoezie in a 16-paragraph affidavit opposed the bail application of the duo but conceded instead to accelerate hearing of the matter, arguing that respondents' counsel made heavy waivers.
He submitted that where an accused is an influential person, he is not likely to submit himself for trial especially when the punishment is imminent.
The presiding Judge stated that he had wanted to transfer the case back to the Chief Judge of the state Justice Innocent Umezuruike before the issue of bail came which he decided to handle first.
After the ruling which lasted several hours after the counsel adopted their addresses, the matter was adjourned till September 26, 27, and 28 after the yearly law vacation.
Reacting to the long adjournment, the presiding Judge urged EFCC to establish its own court if it cannot cope with normal court procedures.
The matter was a fresh 15-count charge brought against the former governor and accomplices bordering on allegedly obtaining money through phoney road contracts that were never executed and embezzlement of over N1 billion fund belonging to Enugu state.
Members of People for Democratic Change, PDC,  or Ebeano family  who had cried uncontrollably  for Nnamani on the first arraignment, thronged the court today, praising their leader.
P.M.NEWS learnt from Senator Nnamani's supporters that the fresh ordeal of the Ebeano leader is politically motivated and would be treated politically.
By Jude OrjiI\Enugu