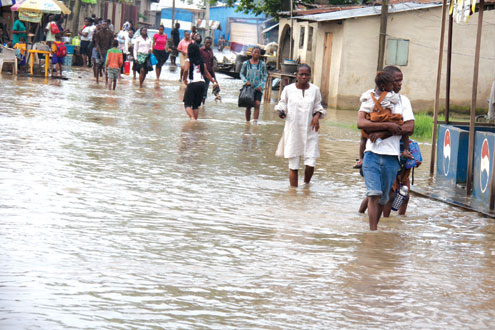 The rains are here in torrents and the city of Lagos, South West Nigeria, is beginning to feel the impact of heavy downpour again and with the prediction by the Nigerian Meteorological Agency (NIMET) that there would be torrential rainfall this year, the Lagos State Government is putting in place measures aimed at combating the menace of flood in the metropolis.
The state was caught unawares last year, when massive flood swept Ajegunle area in Ikosi-Isheri Local Council Development Area (LCDA), displacing over 1,000 people who were later housed at the Agbowa Relief Camp.
The release of water from the Oyan Dam by the Ogun-Oshun River Basin Development Authority partly contributed to the flood.
Lagosians, especially those living in Ajegunle on Ikorodu road axis, will not forget in a hurry the ugly incidence of flood in the area last year. So, with NIMET's forecast predicting a heavy downpour this year, Lagosians in flood-prone areas are now living in fear.
According to the NIMET's prediction, the degree of rainfall this year falls between 300 and 1,100 millimetres in the North, while in the South, it is between 1,200 and 2,700. The forecast said there will be more rains this year than the previous, while the forecast also suggested imminent crisis and more rains in a coastal cities like Lagos.
The state government is leaving nothing to chance to ensure that the magnitude of flood witnessed the previous year is not allowed to occur again and as such, has started working out modalities to save its citizens from the havoc flood wrecked last year, destroying properties worth several billions of naira and disrupted commercial activities in different parts of the metropolis.
Painting a graphic picture of the expected impact of the coming rains, Governor Babatunde Fashola, at his inaugural dinner at the Eko Hotel and Suites, said "the impending raining season will herald more damage and we will again maintain and repair during and after the season as much as our resources will take us. This is the never ending cycle of human existence and I crave your understanding for it.
"As I speak, Lagos is experiencing Atlantic waves that are up to six metres high and flooding of Ikoyi and Victoria Island has only been prevented by the efforts made by your government to build a sea defence wall on the Bar Beach.
"Our state cannot expect to be different. We are approaching our own period of bad weather. Nature will have its way, your government has been clearing and cleaning the drains since November last year in preparation and we have not stopped working, but when nature takes over, we must, I appeal, learn to endure."
According to Fashola, "it is an appropriate time for me to inform us that the signs for a very severe flooding are all out in the open. Nature is reacting very violently across the world and the evidence abounds before our eyes from the tsunami in Japan, to the displacement of thousands of people and destruction of homes in many parts of America as a result of flooding due to high rainfall.
"These are countries where there is a consensus not to dump refuse in drains, but even they have not been spared. It is not because government has failed to act in any particular manner, it is because they are experiencing bad weather and nature must have its way to maintain the balance of the ecosystem. Indeed, without a degree of rainfall, there will be food scarcity and starvation."
According to the General Manager, Lagos State Emergency Management Agency (LASEMA), Dr. Femi Oke-Osanyintolu, government was on top of the situation, adding that sensitisation was already going on to educate Lagosians to desist from dumping refuse in canals. He disclosed that the number of displaced persons in the state's relief camp at Agbowa was 1,600.
Oke-Osanyintolu said the state government was intensifying sensitisation campaign against flood disaster and has taken multi-pronged approaches to contain its imminent crisis, adding, "we are simply looking towards the future with an agenda to ensure safety of lives and properties."
Last week, the state government, through the Ministry of the Environment, came out with plans to combat flood during this rainy season.
Permanent Secretary, Office of Drainage Services, Engr. Muyideen Akinsanya, said that by virtue of  NIMET's prediction as analysed by the state government and duly monitored in the last three months, areas such as Ikosi-Ketu, Mile 12, Agiliti, Thomas Laniyan Estate, Owode Onirin, Agboyi, Owode Elede, Maidan and Isheri North Scheme, were susceptible to flooding.
"Accordingly, people within these areas are advised to move to higher grounds within the months of June to mid-September and October to January. This is necessary because the capacity of most of the canals is not likely to contain the volume of run-off expected from the rainfall and government owes, as a responsibility, to protect lives and properties.
"Although in readiness for the rainy season, several channels in the metropolis have been cleared, while the maintenance schedule is being pursued with vigour and we are confident that flooding will be effectively contained and controlled. However, it is pertinent to mention that the stretch of Oworonsoki-Apapa Expressway from Gbagada to Tin Can Island which, has been depressed for a long time, is yet to be rehabilitated by the Federal Government.
"So, the challenges usually experienced by the people living in the catchment area of the expressway such as Mile 2, Rainbow, Ijesatedo, Ilasamaja, Ewu Tuntun and Itire, to mention a few, will remain largely. This, notwithstanding, our emergency flood abatement gang will be readily available within this catchment areas to respond appropriately and ameliorate the situation," he stated.
Akinsanya added that some of the likely effects of the rainfall predictions as it affected flood management were that dams were likely to overflow or collapse when there is excessive rainfall and that dumping of refuse and dirts into canals and drains as well as erection of buildings across or along water courses were likely to hinder free flow of run-off, thereby causing flooding.
"High rainfall can also lead to displacement of farmers. Excessive rainfall could lead to collapse of bridges and failure of roads, while coastal marine sector may be affected by high rainfall leading to coastal flooding and erosion which may result in landslides, loss of lives and property.
"The implication of these impending calamities is not lost on the state government, considering the fact that we lack effective disaster management machinery in this clime and we must do more to prevent calamities.
" Lagos State, we are aware, is a coastal city and falls within the tropical belt that witnesses heavy tropical rainfall most part of the year. As a result of this singular geographical posture, it is prone to intense flooding, especially during the rainy season.
"In the past, Lagosians have had to groan over loss of properties due to the ravaging flood around the metropolis," he stressed, while calling on the media to help educate the people on the calamities flood was capable of causing for the people and implored them to play their part to stave off disaster by ensuring that their wastes were properly packed and disposed through the Private Sector Participation (PSP) and waste disposal agents only and desist from dumping refuse in the drains.
"Our drainages, lagoon, rivers, streams and wetlands must be kept clean of all forms of waste–solid, sewage, liquid, domestic or industrial. They should desist from building structures along the drain alignments or compromising drainage structures.
"Users of waterways should be more careful of excessive rainfall that can lead to high water level, greater turbulence and changes in shoreline depth, while road users are advised to avoid high speed and maintain their vehicles.
"Residents and property owners along the banks and flood plains are advised to be very vigilant and raise alarm in case of high rise in water level. Lagosians should immediately vacate the water path in case of heavy flooding, putting safety of lives before anything else," he stated.
According to Akinsanya, to change the attitude of people from blocking the drains with solid waste, surveillance and control strategies had been developed with Lagos Waste Management Authority (LAWMA), to prevent refuse dumping which had been affecting and reducing the capacity of the drains/channels.
He said government had been pro-active in waste collection and management with a view to preventing the indiscriminate dumping of refuse in the drains as well as the encroachment on drainage setbacks.
The permanent secretary added that the intervention in flood management informed the creation of the Emergency Flood Abatement Gang (EFAG), as a quick response squad "to provide emergency services of flood related distress in Lagos State. EFAG undertakes the construction, re-construction or rehabilitation of drains, culverts and manholes, including covers, inspection chambers and conduit drains where necessary. All these efforts have produced desired results."
He also noted that the abatement gang "will be readily available within the state to respond appropriately to distress situation. We promise that we shall not relent on the enlightenment campaigns to sensitise the public on their duties and responsibilities while efforts of government will be geared towards proper operational and maintenance of stormwater related infrastructure."
Permanent Secretary, Ministry of Trasportation, Mr. Sheyi Coker, gave an insight into what effect heavy or torrential rains might have on transportation, saying the traffic congestion "usually comes with heavy rainfall and drivers usually get fatigued because of long travel hours."
He stated that because of the wetlands usually experienced during the period, there "is need for an all-year maintenance of the vehicles that ply the roads, especially the brake system, the lights, the wipers and the tyres, to prevent fatalities."
According to the Permanent Secretary, Ministry of the Environment, Dr. Titi Anibaba, LAWMA "is well positioned to always clear refuse wherever it is generated."
She said since the challenge of flood was real, the state government would not relent on its intervention, especially now that Fashola "has made safety, security and job creation the core areas of priority of his second-term administration."
—Kazeem Ugbodaga