Wave-making singer, Joshua Iniyeso, in this interview, speaks about his career, challenges and other issues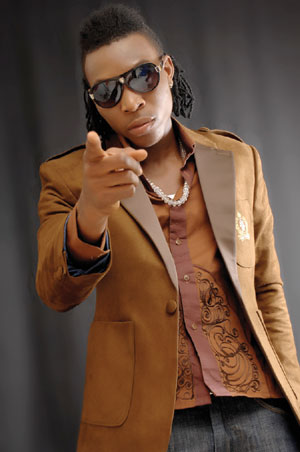 What is happening to you?
Everything good has been happening to me because I have been performing shows, but right now, I am working on my new album and also two singles I am planning to drop very soon.
Your first album was a success, so what should we expect this time?
Yes, I understand what you mean. You see, things change, the Solid Star of yesterday is not the one of today. A whole lot has really changed inspiration-wise as well as my style and everything. I am putting in so much effort and as such, people should expect something better from Solid Star this time. It's going to be just 10 tracks, but I can tell you, it will be a hit.
Is there any collaboration in the album?
My fans should expect collaborations. There is one with M.I. I also have another with Omawunmi, Whizkid. I even featured Mike Ayanzodo, Project Fame winner, in one of the singles I intend to drop.
How soon then should people expect the album?
The album should be ready by November or December this year.
Can you recount your experience since you ventured into the industry?
As I said, so many things have changed now. Back then at Ajegunle, where I started the hustle and trying to put things together for myself, the little money I made from music was used to record songs in the studio and all that. But things changed and I later moved to FESTAC Town, where I started moving with different kinds of people including 2face, W4 and Rock Steady, so these people inspired me, changed my mentality and stuff like. My experience basically is that I now have a new orientation.
The video of One In A Million in which you featured 2face got a credible award, has that made any impact for you?
That video was shot by Clarence Peters. I will say that the song brought me into limelight and made me who I am today because of the way it was accepted. I want to use this opportunity to thank everybody that supported me.
You and 2face have become so intimate since then, what is the bond?
Firstly, I will say we flow easily. I can't do anything to hurt him and he can't do anything to hurt me too. He's one person that likes my style, especially the way I flow. In fact, whenever we had cause to perform together at shows, we often exchanged calls. He's a lively person and doesn't have problems at all, so I don't think we can ever have problems.
What have you learnt from him musically?
I have learnt so much from him even outside music. 2face is original; you can't argue that, besides, I have learnt from him that you have to be humble if you want to be successful in whatever you do. Also, humility is what you will find in 2face's character, so I want to be as humble as he is and respect people the way he does. In a nutshell, 2face has inspired me so much.
What inspires the songs you write?
Honestly, I will say God inspires all musicians and things that happen around them too. So many things inspire me to write songs.
How easy is it for you to write or compose a song?
If you don't get the inspiration you just can't write a song. In my own case, if inspiration comes and people are with me, I just move to a quiet place and listen to what is coming to me in form of inspiration and write it down before working on it.
Most of the songs in your first album were cool, are you switching to fast tempo like it is common in the industry now?
One thing is that music is changing everyday and you have to follow the trend, although not blindly or foolishly. So, what I do is that I go to the club to feel what people are dancing to out there as well as what is in vogue. In my new album, I think I have more of dancehall than the R&B, but you will still know it is Solid Star. As a versatile artiste, I can move or flow in so many different directions.
So people should expect ginger and swagger?
No. I don't do that. It is my own dancehall and you will hear what I am saying even though you can't sing along, it's only that the beat will be faster than my usual beats. You will know the trace, the style and everything.
Now that you have the fame, what are the challenges you face?
It's a totally new experience because now, more people want to hang around you. You have to be careful not to be rude to people and at the same time, not to let people take you for granted.
Do you still go to Ajegunle?
I still represent AJ City any day, any where, any time. I was born there, grew up there and started this music thing there, so it's a place I will never forget and will visit any time.
Do you still relate with your friends in Ajegunle?
I still have relationship with my friends, we hang out together whenever I go there but definitely, it can't be like before when we were always playing together because there was no work for me then, but now, there is work and you have to face it.
What about your girlfriend back in Ajegunle, has limelight made you forget her?
I don't think I had any girlfriend back then. Girls no dey follow man wey no get money. I didn't have anyone. Even now, I don't want to be distracted more so as I am still very young. However, everything will come at the right time.
What are you doing to remain on top of your game with the emergence of Wizkid, Olamide and others?
I am not scared of them. They are good, even some upcoming artistes you have not heard before. There are so many talented artistes in this country, but I can't compromise my standard. I am improving everyday. But don't worry, just wait for my impending works. I am not scared of anybody, even those who have made a name before me. I believe I will be bigger than they are some day, nobody can outshine me.
You used to wear a unique hair style, why did you change it?
That was the solid style then, the style that introduced me to the industry. You know I can't wear a particular style for about five years, so I just decided to repack it since people have already known me with it and even know they still know it's the same person.
What aspiration do you have as an artiste?
I believe a big thing is going to happen to me. In fact, very soon, because of things I am seeing, I believe that in the next two years, I will be on top of the game as the acceptance is getting great.
Did you know you were going to hit the limelight when you started music?
I knew I was going to blow hot, but my target was my neighbourhood, Ajegunle. My grand mother had always told me I will be great, but you know now, I was just doing my thing, what I love and did not know I would be heard at Victoria Island, Lekki and everywhere now, even overseas. I will give kudos to the CEO of Achievers Music, who took me out of Ajegunle to FESTAC and he groomed me as well as taught me so many things. Back then, I used to pay to watch Flectaman and Oritse Femi, who were the major artistes I was looking up to then and I did not know I was going to do a song with 2face later. I give God who made everything possible the glory.
—Bayo Adetu