Senator David Mark and his erswhile deputy, Ike Ekweremadu, were this morning returned to their positions as President and Deputy President of the Senate respectively by members of the Senate in the Seventh Assembly.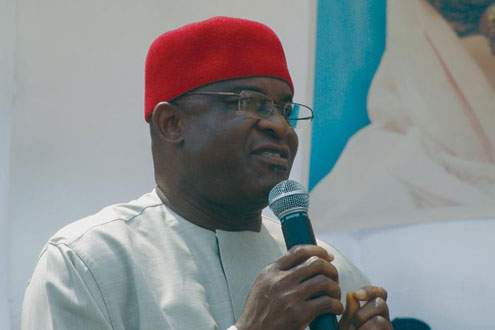 David Mark, clad in a white lace attire with a cap to match, took the oath of office at exactly 10.53 a.m.
He was said to have been returned unopposed as his nomination was upheld by all members.
Ekweremadu was nominated by Senator Zainab Abdulkadir Kure, representing Niger South.
In her citation, she described Senator Ekweremadu, who represents Enugu West in the Senate, as a gender-friendly person.
According to her, Ekweremadu, who is currently serving a third therm ini the Senate, has been very hard working. She described him as a lawmakers' lawmaker.
Ekweremadu was the chairman of the Constitution Review Committee.
"His tenure as Deputy Senate President with Senator David Mark produced one of the best senates in the nation's history," she said, adding that the Senator had five personally sponsored bills and seven co-sponsored bills to his credit.
She also credited Ekweremadu for moving the motion which led to the "Doctrine of necessity" that brought in President Goodluck Jonathan as substantive president when the late Umaru Yar'Adua was ill.
The Deputy Senate President was sworn in immediately his nomination was seconded by another senator.