Prolific thespians, Kola Oyewo and Nobert Young, will soon hit the screens with 'A Thorn In The Flesh'. The educative and entertaining serial is the Season Three of Family Ties, the award-winning television serial from the stable of AK Media Concepts.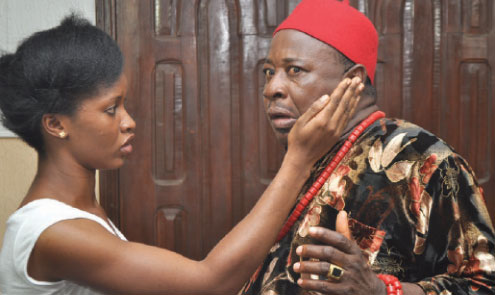 Directed by Africa Movie Academy Award [AMAA] winning director, Niji Akanni, the cast of 'A Thorn In The Flesh' also include Adejumo Lewis, Steph-Nora Okere and Amaechi Muonagor among others.
The serial, NollywoodReel gathered, will hit local and international television screens in August this year.
In 'A Thorn In The Flesh', James and Olayinka Adubi are brothers bound by blood, separated by status. Olayinka is a successful Architectural Engineer with clientele of high networth individuals. As a disciplined gentleman, Yinka lays emphasis on moral values and peaceful co-existence.
Married to Yemisi, a retired health worker who works as a consultant to an NGO, they are blessed with two boys, Yomi and Sola.
The older brother, James Adubi, is a retired Warrant Officer 2 of the Nigerian Army who brags around that he retired as a major to receive undue respect from people. James Adubi is greedy and desperate; he looks for money by any means. One of his strategies for making unlawful income is by using his last daughter, Nifemi, as an examination mercenary.
Married to Adesuwa with three children, James Adubi's prime victim of extortion is his younger brother, Yinka, because the latter is ready to please him, hinged on the legacy of unity left by their deceased father being monitored by their uncle, Lucas Adubi, who brokers peace between the duo in times of discord.
James and Adesuwa's envy for Yinka and his family increases by the day as Yomi, one of Yinka's sons is being used against him by his brother.
Yinka eventually dies of heart attack as an accumulated result of his brother's problems. An event that opens doors for old soldier, as James is fondly called, to victimise Yemisi and Doctor Sola who refuse to dance to his tunes.
The vicitimsation, unbearable for Yemisi, who suffers pancreatic cancer consequentially leads to her untimely death. James and Yomi, his nephew, become a formidable team to tackle Doctor Sola to take control of Yinka's inheritance.
The table turns again when James begins a scheme to get rid of Yomi to will the properties to his own children. This leads to prodigal Yomi running back to his brother Sola, for reconciliation. Their reconciliation becomes the tool of their victory against the wicked uncle. 'A Thorn In The Flesh' is the story of how these brothers and their families cross lives with cataclysmic effects when the goodwill and loving assistance of the successful Yinka inspires envy, hatred and lust.
—Bayo Adetu