Against the stiff opposition, intimidation, arm twisting and harassment by the leadership of the Peoples Democratic Party, PDP, members of the House of Representatives rose defiantly to elect Aminu Waziri Tambuwal (PDP) from Sokoto state as the speaker of the 7th session of the National Assembly. He defeated Mulikat Akande-Adeola who was the favoured candidate of the PDP and the Presidency.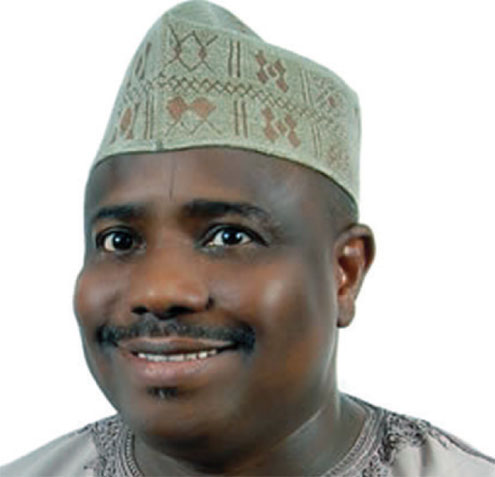 The new speaker, in the landslide victory, polled a total of 252 votes to defeat his opponent who managed to poll 90 votes. A total of 181 votes were required to win in the contest which is based on a simple majority. The election of the presiding officers is the first parliamentary assignment of the House.In the race for the coveted seat, Emmanuel Jime nominated Aminu Tambuwal and was seconded by Nnena Ukeje. On the other hand, Mulikat was nominated by Bethel Amadi.
Ajibola Muraina, who was the initial frontrunner in the race for the coveted seat was however not nominated in the contest following alleged combined pressure from the Presidency and the PDP. The candidature of Mulikat was alleged to have been forced down the throats of the members and the PDP by the first lady, Dame Patience Jonathan.This allegation could not be confirmed at press time.
The battle for the speakership which was conducted based on the open secret ballot rules of the House was fierce. Prior to election, Tambuwal was the deputy chief whip in the 6th session, the leadership of the PDP had threatened to deal with any member who voted for Tambuwal against the openly endorsed Mulikat. To ensure this, it was learnt that the party had gotten the Clerk of the House to rubbish the Open Secret ballot process by having the members clearly write their names and constituency on the ballot. This, according to Assembly sources was to enable the party fish out the defaulting members. This did not go down well with the members who initially attempted to resist the move in a mild rowdiness.The members however emerged from the tensed atmosphere to elect Tambuwal.
Although it was the Clerk of the National Assembly, Maikasuwa, who presided over the inauguration, it however appeared that the members had resolved to push their cause through by independently electing a speaker they can call their own.
In a related development, Senator David Mark and Senator Ike Eweremandu were earlier in the day returned unopposed as senate president and deputy senate president in the Upper Chamber. Unlike the House however, the atmosphere in the senate was devoid of the competition that punctuated the lower chamber.Senators were unanimous that with the sterling performance of the senate president and his deputy in their first term, it will be unwise to embark on a dangerous gamble to attempt to change them.
By Desmond Utomwen/Abuja