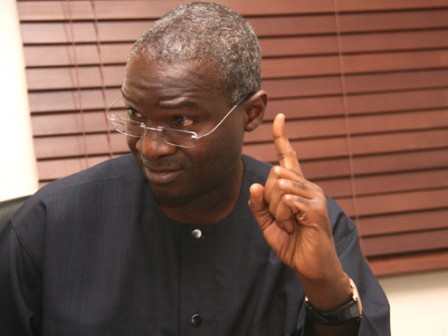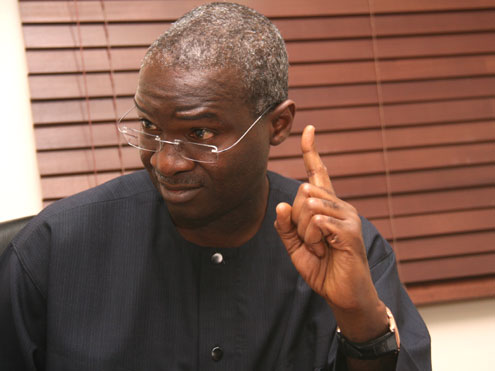 Distinguished ladies and gentlemen, dear honourable elected members of the Lagos State House of Assembly, let me start by expressing my delight to be here once again to discharge a constitutionalduty which requires me as Governor to proclaim the first session of the House to enable it commence business.
My delight is expansive because of your respective successes at the last general elections, because this House will wear only one colour, the very brilliant and progressive colours of our Party, the Action Congress of Nigeria which won all the 40 (forty) seats available in the Lagos State House of Assembly.
It must be said that you all deserved your victories. Our opponents put up a spirited fight, but you all worked hard and campaigned vigorously especially on the basis of our collective successes over the last 4 (four) years.
I am also pleased to acknowledge that while we have a rich mix of new members which expectedly will inject fresh perspectives to our legislative outlook, I anticipate that deliberations in the House will benefit from the experience of returning members and the training they have received which expectedly should translate to better service delivery to our people.
Let me also acknowledge an increased representation in our House of the number of women from 4 in the 6th Assembly to 7 in this 7th Assembly.
My dear Honourable members there is a lot I would have loved to say but the occasion dictates that many of those things be deferred to our quarterly retreats when hopefully we will be able to substantially exhaust those issues; however I will address some matters that have remained engaging and which new members must certainly already be grappling with, such as the nature of the work of a legislator, the concept of separation of powers and independence, your powers of appropriation and the expectation of the electorate.
Legislative Work:
The simple role of the legislator is to make laws. However in making laws, legislators often do more than this. Apart from the fact that they are elected to represent certain geographical areas and constituents which make them a link between Government and the people, they actually enable society develop and prosper by the quality of laws that they make.
It must be made very clear to our electorate that it is not the role of the legislator to build roads, hospitals or schools, but the kind of laws that they make can enable the quick and efficient delivery of those services and prosper society at large.
Apart from the high legislative turnover of the 6th Assembly, it must be commended for its legislative quality. One of its most defining legislation was the Lagos State Security Trust Fund Law which did not only help make Lagos the safest State in Nigeria, it brought our State and country international recognition as high as the United Nations where one of its agencies was studying the law as a model to be recommended to other mega cities.
In the closing chapter of its tenure, the 6th Assembly has passed some set of laws which when assented to and implemented will expectedly bring profound life changing benefits to Lagosians.
Let me use this opportunity therefore to also congratulate Senator Olorunnimbe Mamora, a product of this House of Assembly and Hon. Abike Dabiri for the passage into law of 2 (two) pieces of legislation initiated by them in the Senate and House of Representatives, namely, the Tobacco Control Act (for health) and the Freedom of Information Act.
Our Party, the Action Congress of Nigeria must take enormous credit for the proud contributions of her legislators at State and Federal levels to our country's national development.
Ladies and gentlemen, these are the standards that the 7th Assembly must match and exceed, and with the quality of men and women that I see, I am certain that you will not let us down.
Apart from representing their constituents and making laws, legislators are educators and communicators, who enlighten their constituents about Government policies and communicate progress of programmes; but,they must do so, not merely as a constituency representative, but as a member of parliament.
This means that the legislator must recognize that his duty to his constituency will conflict sometimes with his larger responsibilities as a member of parliament. When this happens, history has shown that it is "the general good resulting from the general reason of the whole" that must prevail.
According to Edmund Burke, "you choose a member, indeed; but when you have chosen him, he is not a member of Bristol, but he is a member of parliament".
Legislative work is therefore a career, nurtured by experience, passion to serve the common and public good rather than a desire to prosper individual interest.
Separation of Powers and Legislative Independence:
Let me restate here that the idea and concept of separation of powers is not divine and therefore cannot be perfect. It was evolved by the early philosophers, men and women, like you and I and therefore subject to the fallibility of human knowledge and experience.
They exist for defining the relationship and harmony between legislative, judicial and executive arms of Government, for promoting unity and not disunity.
The idea is what it is. A simple idea that must be dealt with in each contextual stage, to regulate our inter-dependence rather than our independence.
Distinguished ladies and gentlemen, whilst each arm of Government has its roles defined and prescribed by the Constitution, the independence of each arm lies in its powers to regulate its own affairs to the extent permitted by law.
The reality is that we are more inter-dependent than we are independent of one another. In other words, we are joined at the hip far more than we care to realize for the purpose of good governance.
If we were not dependent on one another, why would the Constitution stipulate that the Governor proclaims the House? Why will I need to send list of appointees to you for clearance? Why would you consider Executive bills and pass them into law? Why would laws made by parliament require executive assent?
Honourable members, the list of our inter-dependence is almost endless and we must use it for the purpose that it exists. Good governance and service to our people.
Budgeting and Appropriation:
This brings me to the very important issue, the power of appropriation to approve estimates provided by the Executive in a Budget.
This is a matter in respect of which we have not done badly, but certainly we must continue to improve as a team. For now it is important only to say a few things: first that the Executive arm has the responsibility to collect revenues to fund the budget and that it would seem it should not be saddled with a budget in excess of what it can reasonably fund.
The appropriation law of every Government is perhaps its most important tool for service delivery and communicating its economic, social and investment policies.
Most importantly, a budget is not cash. It is simply an approval to undertake projects and programmes up to a specific monetary limit in that budgetary cycle. The problem of raising the money is an altogether different problem which the executive deals with on a daily basis by its fiscal and monetary policies.
Unlike in other Governments, Lagos State Government does not release cash to Ministries, Departments and Agencies after the budget is passed; on the contrary, each project is now subject to tenders, approvals and stage payments as the work progresses.
So in our State it is not possible to either share a budget as it is sometimes reported or to lodge the proceeds in any account, because all payments are made from the State's Consolidated Revenue Funds as provided by our Constitution, and from accounts lawfully kept pursuant to the Constitution for work approved to be done.
Expectation of the Electorate:
This leads me to the last issue I wish to comment upon, and it relates to the expectation of the electorate.
Immediately after the April 26 elections, I had commissioned a poll for experts to go round to conduct a study of what the people expect from us as a Government, and from the different arms.
I will be presenting the executive expectation to the Public Service very soon. However the summary of what they expect from their legislators in this House are your contributions to making good laws that will facilitate development in Lagos State; and the opening and running a constituency office.
I believe some of what I have already said will be useful to help us achieve the first expectation but I want to appeal here that we should all take the opening and running of our constituency offices very seriously and Iwill suggest, you may consider and agree at least one day that is common to all where everybody goes to their constituency offices.
Let me also suggest that your campaign offices can serve this purpose while your officials and personal and legislative aides can be very useful in connecting you to your constituents in your constituency offices.
I will now only conclude, by wishing you a successful legislative tenure, and proclaiming the commencement of the 7th Assembly of the Lagos State House of Assembly towards a brighter and rewarding future.
Eko o ni baje o!
—Babatunde Fashola, Being the address of the Governor of Lagos State, Mr. Babatunde Raji Fashola, san, at the official proclamation of the commencement of the 7th Assembly of the Lagos State House of Assembly held at the House Chambers, House of Assembly Complex, Alausa, Ikeja on Saturday, 4 June, 2011.