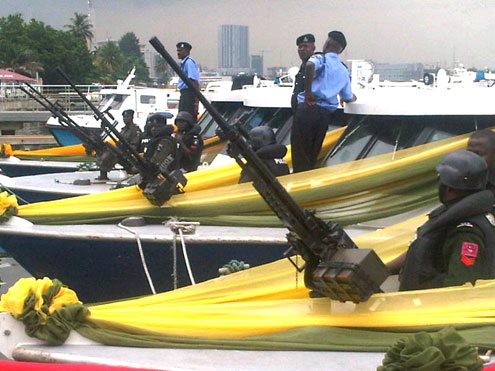 The battle against armed robbers in Lagos State, Southwest Nigeria received a boost today as the Inspector General o Police, Afiz Ringim lauched six patrol gunboats in Lagos to wage war against robbers on waterways.
In the past, robbers successfully escaped through the waterways after carrying out operations in banks with the police appearing helpless as they did not have gunboats to chase the criminals.
Former Lagos State Commissioner of Police, Marvel Akpoyibo had said that Lagos needed at least 100 patrol gunboats to police the waterways.
The launch of the six gunboats is therefore seen as a step in the right direction.
The gunboats are equipped with machine guns and other modern equipment that can withstand the firepower of robbers.
The police carried out demonstration on how to use the boats and to show how ready they are to battle crime in the state.
The occasion was attended by Governor Babatunde Fashola of Lagos and top police chiefs in the country.
Speaking, the Lagos State Commissioner of Police, Yakubu Alkali said that the gunboats would be deployed to areas such as Atlas Cove, Epe, Ijora, Marina, Apapa, Kirikiri and Lekki Phase One and two to patrol other places and ensure the waterways were safe.
According to him, before now, the Marine police were helpless in the fight against crime on the state's waterways, saying that with this, the police could now confront robbers on waterways.
He added that five gunboats were earlier donated by the IGP and others by the state government.
Speaking, Fashola said that during his inaugural speech on 29 May, he promised to pay more attention to the issue of security in the state.
He said the boats would complement the existing ones in the war against crime in Lagos.
Fashola promised that more gunboats would soon be provided by the state government to beef up security on the waterways.
Speaking Ringim said Lagos needed special security attention because of its importance as the economic nerve centre of the country.
He stated that the six boats would be able to enhance policing of the waterways for adequate security in Lagos, adding that the police would continue to partner with Lagos in the area of security.
—Kazeem Ugbodaga &Ayodeji Dedeigbo