Hundreds of corps members in Lagos Wednesday held a peaceful march to protest the killing of their colleagues during the post election violence in the north.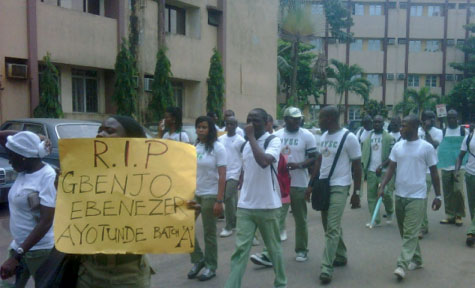 The march was, however, aborted by officials of the National Youth Service Corps, NYSC and the Lagos State Government.
The corps members staged a march from Ikeja through the Obafemi Awolowo Way to the Lagos State Government secretariat at Alausa, Ikeja, Southwest Nigeria and were on their way to the Governors' Office when an NYSC official stopped them.
The officer who introduced himself as the NYSC Inspectorate Officer, Ikeja Zone, refused to disclose his full identity when confronted by the protesters.
He ordered the corps members to stop the march because the NYSC leadership was not informed of the protest.
He confronted the corps members at Allen Junction but the mourners were undeterred and proceeded to the government secretariat where they were addressed by officials of the Ministry of Special Duties.
The NYSC official who later gave his first name as Charles and a top government official, Mr. Joseph Abolude, Director-General, Services, Special Duties ministry appealed to the protesters to stop the march.
Abolude told the corps members that the Permanent Secretary in the ministry, Dr. Aderemi Desalu was not happy with the corps members and had directed that the march be terminated because his ministry was not informed.
Following this, the protesters halted the march but expressed disappointed that a peaceful march to mourn their slain colleagues was aborted.
The corps members, under the aegis of NYSC Concerned Youth Corps Members had written to Governor Babatunde Fashola through the Office of the Chief of Staff which acknowledged it on 31 May, 2011.
The corps members showed the letter to the NYSC and the state government officials but all to no avail.
Some of the placards carried by the corps members read: "RIP Ukeoma Ikechukwu Chibuzor," "Goodluck Jonathan, fish out those responsible for the killing," " Nigeria is our Nigeria, we serve," among others.
Spokesperson of the corps members, Mr. Seun Onalaja said they were only mourning the killing of their colleagues in the north and that it was not a protest, adding:"we want our colleagues to know that they did not die in vain."
—Kazeem Ugbodaga