Lagos State Governor, Mr Babatunde Fashola (SAN) on Friday played host to his Kano State counterpart, Dr Rabiu Musa Kwakwanso with an assertion that the kind of partnership which the visit engenders should be forged across the 36 states of the Federation.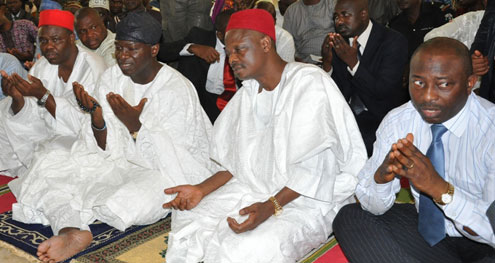 Governor Fashola who spoke at the Lagos House, Ikeja during a courtesy call on him by Dr Kwakwanso added that Nigeria will not prosper by what is done from the Federal Capital Territory alone but by development that takes place in each of the states.
In his words: "Nigeria will not prosper by what is done in the Federal Capital Territory alone but by development that takes place in each of the 36 states using their local talents and diverse resources as models and laboratory centres for different levels of development that aggregate into the common corporate development of Nigeria.
"This is the best way we must take control of the destiny of this country by creating viable activity centres of commerce, security and education in each of the 36 states."
While congratulating Governor Kwakwanso for the initiative of the visit which he described as a sign of the future, Governor Fashola assured him of the fullest support at all levels of government in Lagos State.
The governor said the visit is necessary because there is a need to continue to exchange notes and compare weaknesses on all sides adding "our success will not be defined by what we know but by what we are willing to learn. This is the basis for continued interaction that we pursue both locally and internationally".
He identified rapid urbanization as one of the issues confronting governments in both states, stressing that their commercial allure puts a lot of pressure on government and social service.
"We can develop a synergy on how best to manage this urban challenge that really tasks the limits, endurance and ingenuity of our city managers," he added.
He promised to visit Kano State in the fullness of time as invited by the Kano State Governor, adding that he had cause to visit the state last year.
Speaking earlier, Governor Musa Kwakwanso who said he has had a long relationship with several leaders in Lagos State said he was at Alausa to compare notes and see how both states can work together.
He added that Lagos and Kano States do have a lot in common and must be willing to learn from one another to make the country a better place because according to him, "I don't want to start inventing what has already been invented."
He said that after his first tenure in 2003, he decided to have a break and reflect on what was achieved them, adding that he is now back in Kano State Government House in full gear to serve the people.
Prominent among those who witnessed the ceremony were the Permanent Secretary in the Ministry of Finance, Mrs Seyi Williams, his transportation counterpart, Mr Seyi Coker, the Chairman of the Lagos Inland Revenue Service (LIRS) Mr Tunde Fowler and Executive Secretary of the State Security Trust Fund, Mr Fola Arthur Worrey and senior functionaries who accompanied the Kano State Governor.
Both governors later observed the Friday prayers along with other Muslim faithful at the Secretariat Central Mosque Alausa, Ikeja where clerics offered prayers for a successful tenure for the Governors, continued peace, progress and stability in the various States and the country as a whole.