Major marketer of Funke Akindele's films, Alhaji Akeem Balogun otherwise known as Olasco, is set to battle movie pirates.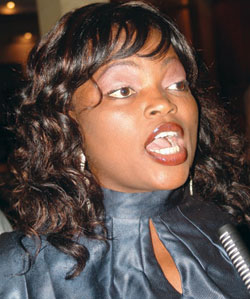 Investigations revealed that he recently released a new film entitled Eku Meji, on DVD to curb activities of the pirates who have been feeding fat on the home video industry.
It was also gathered that the marketer has instructed the company producing the DVD to put a special code and seal on it so as to prevent the perceived enemies from dubbing it into either seven-in-one or more DVDs.
Speaking with P.M. Entertainment on phone, Olasco said: "I have invested so much in my films and can't watch those who have not paid a kobo to reap from where they did not sow. In fact, they are killing us and I hope the experiment will work and the industry will benefit abundantly from it."
Meanwhile, fellow marketers including Rotimi Aina Kushoro of High Waves Video Mart and Abdul Rasaq Abdulahi of Corporate Pictures, among others, have congratulated Olasco for taking the bold step to fight pirates, saying, however, that they have their reservation over how the code could be done in a way that will prevent the work from being dubbed into lap tops or in any other format.
Also, Nollywood actor, Saidi Balogun, who was supposed to release his film, Eti Keta, on Monday, is now planning to release it on 20 June.
He attributed the delay in the release of the work, which is also in DVD format to the need rid the industry of pirates.
To this end, Balogun has given video club owners power to arrest and prosecute anybody caught dubbing and selling the film illegally.
—Ayodele Lawal