Nigerian football icon, Nwankwo Kanu, is set to bring his glittering 19-year career to an end by announcing his retirement.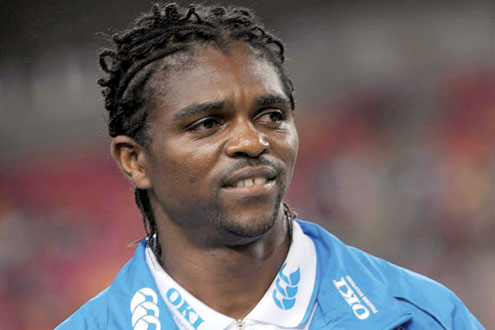 Arsenal legend, Kanu is one of Africa's most decorated footballers after recovering from a life threatening heart problem to win the Champions League, Premier League, FA Cup and Olympic Gold.
The former Super Eagles' skipper, 34, who still has two years to run on his Portsmouth contract, said: "I will soon retire. I have my heart foundation and I need more time to be part of it. I am trying my best taking time from my active football.
Kanu, who also played for West Brom, Ajax and Inter Milan, scored the only goal as Portsmouth won the 2008 FA Cup final.
He will bow out of international football by playing in a star-studded testimonial tomorrow. Cameroonian Samuel Eto'o, Ghana's Michael Essien and Togolese Emanuel Adebayor will be among those taking part in the testimonial game which will also see the Governor of Lagos State, Babatunde Raji Fashola as the captain of the Super Eagles' All-Stars against Friends of Kanu. The governor has also approved the free use of the Teslim Balogun Stadium for the showpiece. Tomorrow's match is expected to pull a huge crowd to the 25,000-capacity Teslim Balogun Stadium, which itself is named after one of the heroes of Nigerian football.
The organisers of the epic event, Nigeria Football Federation and the Lagos State Football Association said tickets for the match are on sale at designated centres in Lagos. Tickets for the VIP section will go for N3,000 each, while the popular side will be available for N500 each.
P.M. Sports gathered that accreditation of officials, journalists and other supporting staff for the match are almost concluded. A Security Committee also met to finalise modalities on how to control the fans coming to watch the match.
Nwankwo Kanu's story is that of a soccer legend from a humble beginning.
The former Super Eagles' skipper is undoubtedly Africa's most decorated football player, with a large collection of accolades from Premier Leagues across Europe and FIFA competitions.
Born on 1 August 1976 in Owerri, Imo state, Nigeria, Kanu played professional football for Nigerian national teams for 16 years from 1994 to 2010. He is a member of the Igbo ethnic group; his name, Nwankwo, means 'Baby boy' born on Nkwo market day in the Igbo language.
Standing tall at 6'5, the striker would formally call it quits with his national team career tomorrow at the Teslim Balogun Stadium, Surulere, Lagos. He is set to play his last match in Eagles' colours in a testimonial match, put together by the Nigeria Football Federation, NFF in conjunction with the Lagos FA and his Kanu Heart Foundation. The international game would feature Ghana's Asamoah Gyan and Michael Essien and many , ex-footballers like Lucas Radebe of South Africa, George Weah of Liberia and many others.
From the beginning, Kanu chose football as a profession and began to play at that level as a teenager. The number of trophies won for his country and clubs, over the years is a record that will remain evergreen in the history of Nigerian football.
Kanu was a member of the Nigerian national teams from 1994 until 2010, making his debut in friendly against Sweden. Earlier on at the start of his career, Kanu was instrumental to Nigeria's overall success at the 1993 FIFA U-17 tournament in Japan and their subsequent 2–1 victory over Ghana in the final. With five goals, he was second joint-scorer in the tournament with Peter Anosike and Manuel Neira, behind compatriot and Captain Wilson Oruma.
As well as winning the Olympics gold in the football event at 1996 Olympics, Kanu participated in the 1998 and 2002 FIFA World Cups. On 24 June 2010, Kanu ended his international career following Nigeria's exit from the 2010 World Cup in South Africa. Nigeria lost their group matches against Argentina and Greece, before a 2–2 draw with South Korea ended their stay in the tournament. He won 86 caps and scored 13 goals for his country and is the joint most capped Nigerian player of all-time alongside the late Muda Lawal.
Kanu began his early career at First Division club Federation Works before moving to Iwuanyanwu Nationale in 1992. After a notable performance at the U-17 World Championships he was signed by Dutch Eredivisie AFC Ajax in 1993 for €207,047.
In Ajax, Amsterdam, he dominated the Dutch league and made the name Kanu a household name in Europe, with a double win of the prestigious UEFA Champions Leagues Cup with former teammate, Finidi George.
He was later signed to play for Inter Milan FC of Italy, where he became the darling of Inter fans as soon as he stepped out and whilst wearing the jersey number 25 at Highbury when with Arsenal FC of England, he created a following of one of the biggest football fans followership in Nigeria and indeed Africa.
In 2008, he was voted thirteenth by the Arsenal fans in their list of the fifty greatest players in the history of the club. His style on the pitch is so unique and Nigerian fans do still mimic one of Kanu's celebrative moments when he scored the winning goal against Brazil at Atlanta Olympics in 1996 for the national team.
For them, 'Papilo, as he is commonly called, did the Nigerian flag proud. His fashion statement outside the football pitch is quite remarkable and very much in comparison to the patterm of his serveral goals in the biggest league games in Europe.
It was after his Atlanta 1996 Gold medal feat that his soccer career nearly came to a halting end, based on a medical tragedy. He was diagnosed with a heart defect that threatened to cut short an amazing career that only a gifted talented, focused and hardworking individual could amass. With his firm faith in God, he underwent the heart surgery successfully in Cleveland Hospital, Ohio. USA and has since returned to play football professionally.
Kanu, the twice CAF African Footballer of the Year was moved by the public's concern shown towards him during his rehabilitation period; that he set up the most famous Charity (NGO) in Nigeria with the aim of serving the entire African continent. It was Kanu's semi and final FA Cup scored goals; the only goals in the two games that brought the FA Cup back to Fratton Park for his club Portsmouth in May 2008, after an absence of 69 years and the opportunity to play in Europe. In October 2008, Kanu together with his team mates received the Freedom of the City, an award given to Men of Distinction, by Portsmouth city in honour of winning the FA cup.
In Portsmouth, he now has a place in Portsmouth folk law and Kanu is simply known as King Kanu.
In March 2009, Kanu was nominated one of Nigeria's Greatest Living Legends and is currently a contender in the top five.
Going down to his childhood period, Kanu began life at Amakohia Primary School in Owerri, Imo state. It was gathered that Kanu had been in love with football from his days at Amakohia, no wonder, football the retiring player attained international height at just 17 years.
He is, in fact, the most successful footballer Nigeria has ever produced. The statistics speak for themselves: U-17 World Cup winner, two-time African Footballer of the Year winner, UEFAChampions League, UEFA Cup and FA Cup winner and Olympic gold medalist, all between 1993 and 2008.
The son of Mazi Samuel and Suzanna Kanu Iheme, Kanu is a child of humble parentage, according to those who knew him. "Kanu, while in in Primary 1, was noted for something", his former teacher was quotted as saying. "He was the type we describe in psychology as being hyper active, in the sense that you will not see him stay in one place. At every point, he's doing one thing or the other, always busy. But we started identifying something special in him at that tender age. In those days when school sport was emphasised in school, he stood out."
It was disclosed that Kanu's passion for football caused him problems sometimes. "At that time, his mother whom we called Udo n' Achiora, was a very strict and hardworking woman. She was well known around the school area. She would give him ground corn (popularly called Akamu) to go and sell. But you will find that the boy would just drop the commodity by the side and start playing football. There's a large field near the primary school not far from their house. At the end of the day, he got some beating for playing football instead of selling the commodity but the beatings did not deter him from repeating the same thing next time. That was how much he loved football. He was driven by football. So, indeed, he started playing football at a very young age," said his ex-teacher, Okereke.
Suzanna, Kanu's mother, while narrating the story of his son at her home in Amannagwu Arochukwu, in Abia State, revealed that Kanu's love for football began very early. She also admitted that Kanu placed football above other things and that was the aspect she did not approve of. "His talent manifested early, when he was about two years old. At that time, he was not even talking very well but had started playing with football. When we were at Amakohia, if I asked him to do something, such as to grind corn, he would prefer to go and play football. I used to beat him because of that."
"At times, if I gave him an assignment, he would do it, even if not immediately. To that extent, he's good and obedient." Suzanna, commenting on her son's fame, said she was giving all the glory to God. "It's God that made it possible," she said, pointing to the sky. "I am very happy for what God has done for me through my son. Everybody has his talent, so I am advising every mother to support her child's aspiration. Even though I was strict in those early days, I was merely guiding him to be a better child. It was when he joined Iwuanyanwu Nationale that I became truly convinced that football was actually his biggest gift."
The proud mother also talked about the humanitarian work her boy has come to be known for, through the Kanu Heart Foundation. "I am not surprised because he has always been a good boy," she said. The footballer had set up the foundation, a not for profit organisation that has assisted many people with heart ailments to once more live a normal life. This was in 2000. Today, he is as popular for his humanitarian work as he is popular for his football skills. The player had also impressed many people with his footballing skills as a student of Holy Ghost College, Owerri, where Kanu had his secondary education and finished from there in 1991.
Kanu, it was gathered, was very active in school sports duringin his secondary school days in the later part of the 80s. "Kanu, even while he was in JSS 1, had always been known as a sportsman. He was a member of the school's team at the time. During break, he took part in sporting activities and showed top skills as a footballer. He was lanky and was highly admired. After training sessions," a report said, adding that his games masters always talked about his special talent in football. Ogu Val Udochukwu, principal of Holy Ghost College, confirmed to that Kanu was a prominent member of the school's football team. Although Udochukwu was not the principal at the time Kanu was a student, he acknowledged that information on Kanu pointed to the fact that he was a good soccer player at the College. "Yes, Kanu is an old boy. He passed through here and he was a player here too. The school is happy that such a superstar passed through here. He's a pride to the school," the principal was quotted as saying.
It was learnt that, even while Kanu was a student at Holy Ghost College, he was also involved with other amateur clubsides in Owerri.
"Enyimba took him to Aba, along with three others, Mobi Oparaku, Ekenna Nnado and M.C, after paying them N2,000 each. But, my attitude is, if I want a player, I go for him. So I went to Aba and gave Enyimba back the money they had paid on the players and took them back to Owerri," said Ejimofo, a football manager. That was how Kanu joined the club that was, at the time, arguably the most formidable outfit in Nigeria.
Ejimofor said it wasn't easy getting the players into the first team because, at that time, the concept at Iwuanyanwu wasn't in favour of the less known players. In fact, the coming of the four players led to grumbling as some people within the club, who started wondering why the boys were recruited. But fortunately for Kanu, Emmanuel Iwuanyanwu, who was the club's owner, had told Ejimofor to recruit only 26 players for that season. "Our players didn't like the idea of bringing small boys. The issue went to the board and to the owner of the club, and at a meeting I was asked to explain why I brought small boys. So I said no, that I merely brought them to beef up the club since we recruited 26 instead of 30 players. I told them that the boys were not a threat to anybody."
Kanu later got his breakthrough with the team, and went on to play his part in the club's march to winning the league trophy that year.
Ejimofor recalled that, at first, Kanu was fidgety. But he later overcame it . "He was so lanky. His first game was against Stationery Stores of Lagos. He also played another in Port Harcourt and was so jittery. But it didn't discourage us from using him. He later played against Rangers in Enugu and he scored two goals. It was from that moment that his talent blossomed. He was such an exciting player. That same year he featured for Iwuanyanwu, we won the league," said Ejimofor. It was from Iwuanyanwu that Kanu was selected to represent Nigeria in the U-17 World Cup that held in Japan in 1993.
Ejimofor described Kanu as a slow player who, when he was on the ball, could hardly be dispossessed of it. "Some people took his slowness for laziness. But he was an exciting player. I think he's the most exciting player to have emerged from this area."
Sam Anozie agrees. Anozie was a former Iwuanyanwu Nationale player, who also became the club secretary when his career was cut short by injury in 1989. He said he had always been an admirer of Kanu and was pleased when the club signed him. "I had been his admirer even before he joined Iwuanyanwu. I used to watch him while he was at Federal Works. And when I was active in the game, I used to invite him to my house. We used to discuss the game, and I saw in him a player whose skills would take him far. Anozie, who was not surprised that Kanu became an international soccer star, said Kanu had always been a humble and disciplined player. "He was a disciplined, quiet and respectful person, a gentleman. He comes readily to mind when you want an example of humility and discipline. We always mention him to the younger players. When we talk to them, we remind them of Kanu and what he stood and still stands for, because among his mates, he excelled. We tell them to imbibe the kind of discipline Kanu is known for," he said.
Ejimofor also described Kanu as a model of a disciplined player. "Kanu's a true model, a disciplined player who took the game seriously. When it's time to socialise, he socialises, when it's time to play the game, he goes for it. He didn't give anyone trouble."
"I remember that, in those early days, team managers always said many good things about him because of his calmness, his attitude in and outside the pitch and generally, his relationship with people. He wasn't troublesome. I never saw him fight. He was humble, talented and respectful, a good guy. That is why he is different from many of our youths today. You may be a good footballer but if you don't combine good football with discipline, you may not excel. Kanu took his game seriously, and I think, anyone who's looking at reaching the heights he has attained should be ready to imbibe his sense of discipline." Although he admitted that everyone is unique in his own way, in sport, discipline is important if one must excel."
There are many other people who admire Kanu for his activities outside the soccer field, particularly, his philanthropy. Kanu has offered succour to many indigent Nigerians through his heart foundation. The foundation caters for many who suffer one heart defect or the other by sponsoring their medical trips abroad for treatment. In a society where many rich people choose to indulge in frivolities or ostentatious lifestyle, or even at a time when many rich footballers prefer to spend their money on expensive cars and other exotic things of life, Kanu has impressed many with his humanitarian work. The decision to set up the foundation was borne out of his experience.
At the height of his fame in 1996, after Nigeria won the Olympic gold medal, the player who had just signed with Inter Milan, was diagnosed with a weak aortic valve. The consequence of this was that Kanu risked losing his life, should he insist on playing football. But the player ruled out the option of quitting, saying he could not imagine life without football. His determination to continue with the game led him to seek both orthodox and spiritual help. One of the places he allegedly visited was the Synagogue Church of All Nations owned by Pastor T.B Joshua.
But the player denied ever visiting the Ikotun-based pastor. This led Joshua to release pictures of Kanu taken during his visit to the Synagogue. Kanu later had surgery in Cleveland, Ohio, USA, to correct the defect.
Having recovered, Kanu later established the foundation. But the player said his decision to set up the foundation had more to do with his love for the people than anything else. "A lot of people go through a lot of things in life but end up not making the best use of their experience, or even allowing it to influence them. For me, it's about the 'heart.' If you have a good heart, you can't change it. It doesn't matter what happens to you. Regarding this aspect of humanitarian work, I would say it's something I've always wanted to do. That's my nature. And, having come this far, I thought it's wise to use my fame to attempt to give something back to the society," Kanu said.
His foundation has assisted many Nigerians with one heart ailment or the other. About 310 people had benefited from free medical treatment abroad with about a thousand more on the line. This, no doubt, could be financially burdensome. Pressed to say how much of his money he has committed to the foundation, the player said it's unimportant. "Let's not go into that. The financial cost is not important. What matters is our collective desire to render help to those who need it. It's not a personal thing. It should be a collective effort."
Although Kanu would not disclose how much has been committed into sustaining the foundation, Globacom Telecommunications Company, it was gathered gave an insight into the money involved. Globacom, as part of its social responsibility, has been partnering with Kanu Heart Foundation in its bid to raise funds so that more people could benefit from free medical treatment. It said "more than N500 million" has so far been spent in running the foundation. The telecom company, in praising Kanu, gave a clue on why it chose to partner with him in the first place. "Everyone knows about the intervention of the soccer idol in bringing succour to our brothers and sisters in the country who have heart related problems. It is on record that if not for the involvement of this footballer, who is the most successful and decorated player on the continent, a lot of people with heart challenges would have passed on."
According to Globacom, the Kanu Heart Foundation is one of the most invaluable NGOs operating silently in the country and that although Kanu "may not be the richest Nigerian football export," he is probably the "most kindhearted." Mohamed Jameel, the group chief operating officer of Globacom Mobile, said that the telecom company was proud and delighted to be associated with this life-saving foundation in its compassionate goal. "We commend our true patriot, Kanu, for initiating this laudable project and urge other corporations to support him in realising his mission."
The footballer expressed gratitude to organisations like Globacom that have been of assistance to the foundation and acknowledged the challenges involved in seeking assistance. Kanu said sometimes the efforts work out, sometimes they don't. "It's not been easy. But we are not relenting," he said. "We have to keep knocking at their doors. We have the patience to keep appealing until we get a positive response. That's the spirit. It's about helping the less privileged ones who don't have the means to pay the bills for their treatment. So far, it's not been bad."
Apart from corporate organisations, the Kanu Heart Foundation also makes representations to state government with the hope of collaborating with them in heart related matters. One of such events was held in Owerri and was called the 'Imo Heart Summit.' The event was an opportunity for people to undergo free medical treatment in heart-related cases. It was done in collaboration with the Imo State government which accepted to liaise with the foundation to host the summit.
Okereke, his former teacher, said that she was pleased to hear of the impact Kanu's Heart Foundation has had in the society. "Just recently, one of the teachers was testifying about the Kanu Heart Foundation, how it organised a summit at the Concorde Hotel, Owerri and she went and received free treatment. I thank God for that because you can see how God is using him to touch lives – not just in the sporting area now but in health aspect. And how many lives has he touched? So many!"
Beyond his foundation and his youth club, the footballer is also an ambassador for many states. His image adorns billboards across Imo State as advertisement for the state government. Kanu has a kind of emotional attachment to Owerri as he grew up there. Whenever he is in Nigeria, he often spends some time in Owerri. He has mansion in the town. His wedding to Amarachi took place in Owerri. This was in July 2004, at the Presbyterian Church, Owerri. Amarachi, a student of Abia State University at the time, is also from Arochukwu.
In Owerri, Kanu is seen more as a cult figure, a hero. Such is the attachment that many people actually forget that he is indeed not from Imo State but Abia.
The Imo State government considers Kanu a true son of the soil, who is also a role model to the youths. "He's an ambassador of the state, a new brand who represents the new face of Imo State which the Imo State government has been projecting," an official aid, in reply to media question about the posters and billboards showing the footballer. Imo State is not alone in choosing to align with Kanu. The Abia State government is also in partnership with the footballer in the area of youth and sports development.
—Additional reports culled from Newswatch & DailyNewsOnline.com.