The Governor of Rivers State, Chibuike Amaechi, has warned the first batch of six Commissioners sworn in today, in government house, Port Harcourt, to key into his vision of making life better for the people who gave his administration a second mandate or get fired.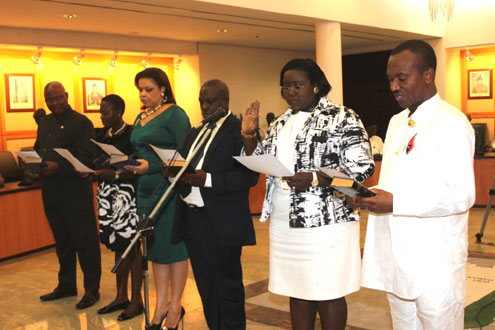 He also warned those lobbying him to stop disturbing him with phone calls and text messages.
Governor Amaechi cautioned the newly sworn-in commissioners, five of whom were reappointed, by drawing a line between being "a friend to Chibuike Rotimi Amaechi, the Governor of Rivers state and Chibuike Amaechi, your friend. If I am not satisfied with your performance, I will not hesitate to drop you.
"That you are among the first batch is because of the limited time left for performance, which is One year, Eleven Months and Two weeks; you have to hit the target. God should give you the strength, while God should give me the courage to fire you when you refuse to perform or become corrupt."
Governor Amaechi lamented that lobbyists have inundated his phones with text messages asking to be made Commissioners.
He cautioned: "Please people should stop sending me text messages because I have made up my mind who will be my commissioners. There are reasons why I am swearing you in first. Abstain from corruption because you don't have immunity. By the Rivers State Fiscal Responsibility law, any Rivers person can take you to court. Mine may be later after my tenure if there is anything found against me."
Speaking later to journalists, Mrs Ibim Semenitari, Commissioner for Information and Communications, assured that she will put in her best and as much as possible bring the state media at more competitive level like the private media.
"With the kind of support the governor has promised the state media, the private media should better watch their backs because we are coming," she said.
Among the six commissioners sworn in are three men and three women.
Victor Giadom, was the immediate past Chairman of Gokana local Government council area of Ogoniland.
By Okafor Ofiebor/Port Harcourt