An Abuja Federal High Court presided over by Justice Donatus Okorowo today granted bail to embattled former speaker of the House of Representatives, Mr. Dimeji Bankole to the tune of N5 million with one surety who must be an owner of a landed property worth the bail sum within the jurisdiction of the court.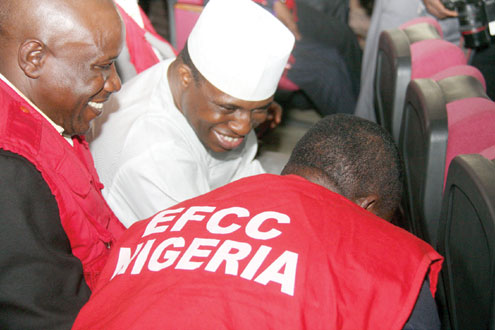 However, Bankole was immediately re-arrested by operatives of the Economic and Financial Crimes Commission, EFCC, and would be arraigned later today. He may be docked along with the former Deputy Speaker of the House of Representatives, Usman Nafada on fresh charges bordering on alleged inflation of contracts to the tune of N40 billion.
Nafada was arrested by EFCC yesterday.
The court had ruled that the surety is to deposit the title document to the property with the court's Registrar for verification as to its authenticity. The would-be surety is also to deposit a copy of a recent passport size photograph as well as that of the former Speaker.
The ruling this morning followed the hearing of the bail application by the court last Friday. The court slated the ruling for today and remanded Mr. Bankole in the custody of EFCC pending the ruling.
Bankole had urged the court to grant him bail on self recognition. He had argued that he is entitled to bail on self recognition being the immediate past House of Representatives Speaker and a holder of national honour of Commander of the Federal Republic, CFR.
Bankole further claimed that he had never been tried for any offence or convicted for any offence in Nigeria or any other jurisdiction and that his reputation and past record attest to the fact that he would not jump bail if granted one and also denied ever conspiring with anybody or group to inflate contracts as alleged by the EFCC.
He had also claimed to be solely responsible for the emotion and material support of his aged parents and other dependants who would be adversely affected by any denial of his bail.
In reaching the decision to grant bail to the former Speaker, the court observed that certain paragraphs of the counter affidavits filed by the anti-graft agency breached the Evidence Act in that they did not disclose the source of their information regarding the alleged arrangements by the former Speaker to abscond from the country by British Airways to London and subsequently expunged the offending paragraphs from the counter affidavit and held that the EFCC had failed in showing cause why bail should not be granted to the former Speaker.
Consequently, the court exercised its discretion in Bankole's favour and granted him bail.
The court however stated that he should be remanded in the custody of EFCC if he fails to meet the bail conditions.
Soon after proceedings was brought to an end before the court, Bankole was re-arrested by operatives of the anti-graft agency for another arraignment before an Abuja High Court on fresh charges today.
—Nnamdi Felix / Abuja