Former Super Eagles' skipper, Nwankwo Kanu spoke with sports journalists after a testimonial match played in his honour at the Teslim Balogun Stadium, Surulere, Nigeria. The former Arsenal star reveals his only regret as he finally bowed out of international football last weekend. Our reporter, Adebobola Alawode was there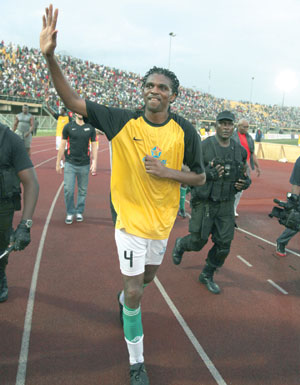 How do you feel about the testimonial match that was played in your honour?
I won't lie to you, I feel elated because it is not easy to drag the governors of two states and a host of ex-footballers as well as active footballers to Lagos for just one person.
You must be happy then?
That's an understatement. If only you can look into my mind, then will you see how I feel. I'm really happy.
The fans also came out to say goodbye to you from the Super Eagles, how do you see that?
I guess they came out to honour me on my final day of international duty. It is something I would relish throughout my stay on earth.
Was it hard retiring from international football?
It was very hard for me because I always feel I will play football forever. Sadly, I have to retire because I want to give our up and coming footballers to prove themselves too. They must take over from us, and there can't be a better time to quit than now.
What advise do you have for your admirers?
They should know that players will come and go. I'm out now but others will come after me. What I know is that other players will have to work hard to make it big because nobody can be on top of the world, the world is too big for an individual.
You won the Olympic Gold for Nigeria, the UEFA Champions League and a host of other laurels, what next for you and your regret as a player?
Well, my only regret as a player is not winning the African Cup of Nations. But, the most important gold I'm winning now is to save the lives of those who have heart problems. If I do that, then I believe I have won the Nations Cup and even the World Cup put together.
How do you feel being the captain of the team that won the Atlanta '96 soccer gold medal?
Winning the Olympic gold at Atlanta '96 was the highlight of my international career. No African team achieved that before then and we were not among the favourites for gold, but we went ahead to beat the favourites like Argentina and Brazil with all their top stars to become champions. It was a great moment.