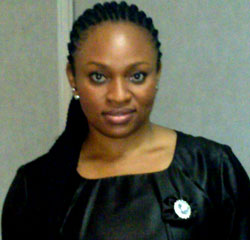 A very long one from Amara you would say; I agree with you, but this is because we have neglected these teenagers for so long and so many things have gone wrong in the process of our ignoring them. Below are some of the messages I got from my teenage readers.
Dear Aunty Amara,
I thank you for all the good things you are doing for us teenagers. I want to be your friend so as to have you as my mentor. I have come to dislike my parents but they don't know. I have decided that the moment I enter the university, which is next year, they will not see me in that house. They are always fighting and abusing themselves and don't even care how I get the little things I need daily for my upkeep as a woman. All they do is ask me constantly if I am still a virgin. I tell them I am, but aunty, I am not because I depend on a 42-year old man for my upkeep. My mother cannot even buy me sanitary pad, all she knows is her job. In fact, I don't have a mother
—Tomi
Aunty Amara,
Thank you so much for discussing the topic, Why Teenagers Do What They Do. My name is …, I am 21 years old. I started keeping a boyfriend when I was in SS2 and ended up with unwanted pregnancy and this made me not to finish secondary school. But I thank God that after putting to bed, I went back to school and now I am a 100 level university student. A lot of guys have been on me for relationships, but I am not interested, I just want to face my studies.
Hi Amara,
I just finished reading your piece. I agree with you that the negligence of parents is responsible for the moral decadence in our society. My name is …, a 30-year old graduate. I am still single and could say it is as a result of my childhood experience. I am a product of teenage pregnancy and when my mom got married to another man, he never wanted me. I grew up with my aunties after my grandmother became ill and was left with a male relative who sexually abused me and often told me it was the least form of punishment to receive. I was brought to Lagos when granny died only for my mom's sister to maltreat me to the point that I started wondering what I did wrong. But this is a price children pay when parents refuse to live up to their responsibilities.
Women should be careful what they do with their children. A friend told me that it was at the age of 20 he found out that his aunty who he took to be his biological mother was not his mother.
Okay, let us continue with the topic: those things we do wrong as adults and which have great influence on teenagers.
Cursing
There is power in the words of the elders. When an adult, especially the parents, speak into the life of a child, he or she finds life taking that path. I feel very bad each time I hear parents use negative words on their children. I know they can really get on your nerves sometimes, but we were all like that at one time or the other. I have realised that a good number of these troublesome children are from parents who were very troublesome as teenagers.
Please, be careful when it comes to your choice of words on your children. A teenager, after reading my article, called to complain about her mother. According to this girl, she is fond of using abusive words and curses on her each time she offends her and this is really affecting her psychologically.
You may not believe this, but as a little girl, I saw what parental curse can do. A young woman came for deliverance in my dad's ministry. During prayers, the evil spirit in her spoke and said that when the girl was small, her mother said thunder should fire her. Out of pity, he decided not to kill the girl as the mother said, but chose to dwell in her. Thank God, she was delivered.
You may not know what harm your words are doing to your kids. Death and life are in your tongue, so be careful when you carelessly use words like 'stupid,' 'foolish,' 'idiot,' 'mumu,' 'blocked head' on your children. You don't see it as anything serious, but they are going to work in them. That is why you see that blocked head get worse by the day because your words are working somewhere in the subconscious.
Mind you, not just your child, but that little house help you have.
Teachers should also be careful with words they use on children. This is why I tell every parent to make it a duty to pray for the child daily and speak good things into his or her life. If a child gets to school and all he hears is "you blocked head" and on getting home he hears "you foolish boy." this boy will automatically become foolish because he will begin to see himself as useless. Teachers should be trained on the right use of words in class. You can beat my child in school, but I won't take it lightly with you if I hear you use negative words on any of my children.
After my SSCE exams, I found myself with a woman, a family friend, who never wanted me to excel above her daughter. When I dressed up, people appreciated my body, but this very woman would always have something negative to say about me. She succeeded in making me look for a way to start covering my beautiful, God-given hips. God brought me out of this and made me excel far above her daughter.
I later found myself in a marriage where all I got was negative words. It got to a point that I started seeing myself as a useless person who could not do anything good. I felt that every other person was better than Amara and started being afraid of people. But I got up one day, prayed and from that moment, refused to believe what he said I was. Here I am today, doing great things for humanity.
Change your words. I don't think anyone can ever make my children feel inferior because I brought them up to believe they are the best in terms of intelligence, beauty, body figure, character…Look at your children and speak positive things into their lives. Stop being too religious with your children, tell them how much you love them. I cannot hang up when I speak with my kids in school without saying that word "I love you." When you do this, it becomes something usual for them and so they don't get carried away with those fake professions of love.
Relatives
I see mothers use their jobs as excuse to send their children to live with granny or aunty. I don't agree with this. Look at that story above, the boy never knew who the biological mother was until he was 20. I see children call their mother aunty while the house help or aunty takes the position of a mother. They laugh over these things, but that is too shameful. This is number one evidence of a failed and incapable mother. Sacrifice that job for your child because your greatest success as a woman is in your ability to raise good and Godly seeds.
Career Choice
A particular teenager has been on my neck asking me to do a publication for her. This young girl wants to become a pilot, but the parents are seriously kicking against it. They are very comfortable, but told the girl to look for someone to train her if she insists on going ahead with that.
I have a friend who spent more than seven years in the university because the father insisted he read Mathematics. The father read Maths-Physics and had a good job with a multinational company. This guy, after spending three years in the university, left Maths for his first love, Architecture. Although he spent seven years in the university, he is doing wonderfully well in his job as an architect. All you should do is guide your kids in their choices and don't impose things on them.
Partying
How we often destroy our children in our efforts to give them the good life? I agree in the exposure of children to social life, but there should be a limit and a constant reminder that we are still Africans. I don't think it is right to form the habit of taking your children from one party to another or one eatery to the other. We should be able to make our children understand that we are still Africans who love home-made food.
When as a little child your daughter is taught to wear miniskirts and indecent clothes, leaving her tummy open, why then do you complain about her dress sense? When you taught your son to wear torn jeans like a mad person and sag his trousers, you shouldn't be complaining about him now. When she grew up partying every weekend with mummy, you shouldn't be complaining about her refusal to stay at home.
Let us make amends and become what we should become for our children.
Some parents sent their children away because of one mistake or the other. I understand your pain when you got the news of her pregnancy. I understand how you felt when you heard he impregnated a girl or he was into drugs. It's okay,it has happened and I know he or she must have learnt a lesson. It is time to draw them closer and become a parent again.