Controversial Nollywood actress Empress Njamah has claimed that the nude pictures circulating all through last weekend on many social networking sites and blogs are not hers.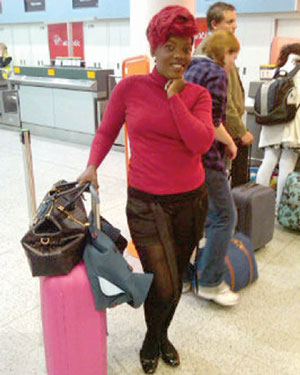 In a message sent through her publicists to Showbiz Trends on Monday, the actress denied being the one in the dirty pictures purportedly showing a lady and an unidentified man in a steamy sex session. "The attention of our client, star actress Empress Njamah has been called to the devilish and wicked photoshop pictures of her being circulated on the Internet and on various Blackberry messages being posted in the last few weeks. Ordinarily, she would have ignored these stupid pictures, but sometimes, silence, they say means consent," the statement read.
Empress described the lewd pictures as a distraction, and she will not dissipate her energy to such less productive issues. "In the last weeks, I've buried myself in work and been busy with some big projects which has made me missed most social events, because of my determination to make 2011 the most productive year of my career so far," she said.
According to the message, the denial was to assure her numerous concerned friends, fans and family that the image in the picture is not her. "A look at the devilish picture shows a tripod, light stand and if you look well, you will see that the only part of the picture that is blunt is what is supposed to be her face. If you ask those who have seen my body, they will tell you that I do not have a single tattoo, just a birthmark. I leave whoever is not busy and has been sending these pictures around to their conscience," Empress explained.
The actress said she is not fazed about the cheap blackmail through this picture but will rather concentrate on building her career and business.
—Funsho Arogundade