The Action Congress of Nigeria (ACN) has accused Akwa Ibom state Governor Godswill Akpabio of preparing the ground for the elimination of opposition politicians in the state, through his statement alleging a plan to eliminate people who served as polling agents for the PDP during the last general elections.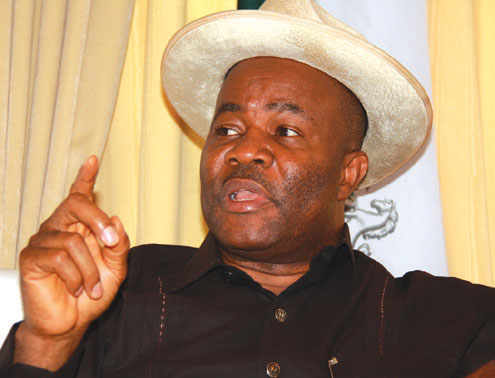 In a statement issued in Abeokuta, Ogun State, on Thursday by its National Publicity Secretary, Alhaji Lai Mohammed, the party said Gov. Akpabio was acting true to type by first accusing an unnamed opposition party, on the basis of spurious security report, of planning to eliminate the PDP polling agents, so they won't be able to testify at the state election petition tribunal starting in Uyo next week.
"This is Gov. Akpabio's way of preparing the ground for the elimination of opposition politicians and their supporters. By crying wolf, he is trying to justify any future elimination of opposition party members and supporters. We are therefore calling for vigilance by all members of our party in Akwa Ibom, and indeed all those who belong to the opposition in the state," it said.
ACN said it has a tradition of resorting to a legal recourse to claim stolen mandates, rather than engaging in street battles or killings.
"Every Nigerian knows which party has been described by no less a personality than the Nobel Laureate, Prof. Wole Soyinka, as a nest of killers. Every Nigerian knows which party has always engaged in internecine killings. That party is definitely not the ACN. Therefore, Gov. Akpabio should look inwards for those who are allegedly trying to eliminate PDP witnesses.
"In any case, it is in the interest of our party to see the election petition tribunal successfully treat the cases before it, so that the antics of the rigging machine called the PDP can be exposed, and our stolen mandate can be retrieved. That is our interest and we have no reason to eliminate anyone. It is not in our character," the party said.
ACN said prior to the assumption of office in Akwa Ibom by Gov Akpabio, the state was a bastion of peace and tranquility, adding that the same cannot be said of today's Akwa Ibom, in which unresolved murders, kidnappings, shootings and attacks against innocent citizens and perceived
political opponents of the Governor are the order of the day.
"The reason why a normally-peaceful state has become a hotbed of violence is political intolerance and desperation to remain in office, even
when the people of the state have clearly shown they will rather have a change for the better," it said.