Following multiple robbery attacks on her, Samba queen, Stella Monye, has cried out for help.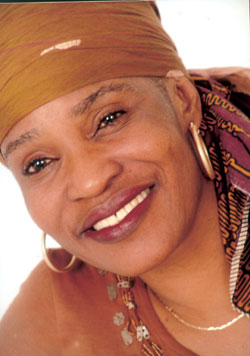 Speaking with P. M. Entertainment, Stella, who was first robbed in Surulere area of Lagos and later in Ikeja, said: "I don't know who is after my life because those robbers that stole my phone have been calling my contacts, telling them all sorts of lies to defraud them under the guise of fronting for me."
Narrating her ordeal, Her Excellency, as she is also called, said " I was accosted by a man after a bank transaction on Adeniran Ogunsanya Street, Surulere and the man, who claimed to be one of my fans, engaged me in a discussion and before I knew what was happening, another man just appeared and snatched my bag, while they both bolted away on a bike."
Monye, who lost all her phones, valuables and money to the robbers, also said that when she went to buy a new phone at the Computer Village in Ikeja, "an unknown person who tried to snatch my handbag mistakenly injured me by stabbing me in the hand."
The Oko mi ye crooner, who said she has put the ugly incident behind her, however, warned her fans, friends and business partners, not to transact business with anybody on her behalf except with her consent.
The musician, who entertained during the June 12 celebration at the Blue Roof, LTV, Ikeja, wondered who would have been after her my life because her Suzuki Swift car was recently burnt into ashes in front of her office in Apapa, Lagos, where she worked as a social worker.