The acrimony between two leading musicians, Michael Ugochukwu, a.k.a Ruggedman and Akande Abolore also known as 9ice, has taken a turn for the worse, with Ruggedman boasting that "9ice is my boy. He met his wife through me."
9ice's estranged wife, Toni Payne, is at the centre of the strained relationship between the erstwhile best friends.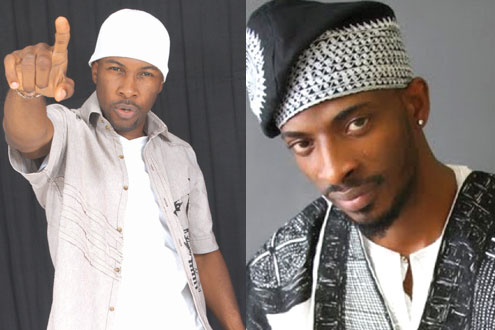 Just as the acrimony between Ruggedman and 9ice was ebbing, the former again stirred the hornet's nest in a new Yomba TV programme called Gbamu Gbanu.
Speaking in Yoruba language on a television programme Gbamu Gbamu, which will hit the screens on African Magic Yoruba on DSTV by 1 July 2011, Ruggedman said that 9ice had his first major break when he brought him on stage at a Nigerian Breweries show held at Mothelan', Opebi, Ikeja. about six years ago.
He said that at the show, he introduced Toni Pyne to him and that was how they started, adding, "I don't know that it is a crime to introduce someone to a woman. I wouldn't have done that."
Ruggedy Baba, as Ruggedman is also called by friends and fans, said when the story was making the rounds, he was waiting for 9ice to debunk it and since he failed to do so, he decided to state his own side, declaring, "he is a boy I trained by taking him to shows and that was what gave birth to the song, Opomulero."
Gbenga Adeyinka, the brain behind the television programme, a top comedian and master of ceremonies, said Gbamu Gbamu, which has different segments like jokes, mock news and interviews, among others, is a way of bringing out his talent to show that he can also present a Yoruba programme.
He added that top comedians like Ali Baba, Omo Baba, Tee A and others will feature in the weekly programme.
—Ayo Lawal