The International Criminal Court has issued an arrest warrant for Libyan leader Col Muammar Gaddafi.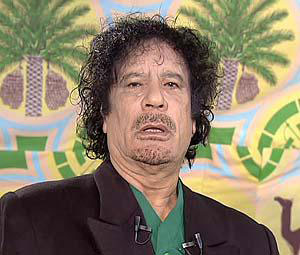 The court had accused him of crimes against humanity and of ordering attacks on civilians after an uprising against him began in mid-February.
The Hague-based court also issued warrants for two of Col Gaddafi's top aides – his son Saif al-Islam and intelligence chief Abdullah al-Sanussi.
Thousands of people are believed to have been killed in the conflict.
ICC presiding judge Sanji Monageng said there were "reasonable grounds to believe" that Col Gaddafi and his son were "criminally responsible as indirect co-perpetrators" for the persecution and murder of civilians in Libya.
The warrants had been requested by chief ICC prosecutor Luis Moreno-Ocampo in May, who said the three men bore responsibility for "widespread and systematic attacks" on civilians.
Mr Moreno-Ocampo said the court had evidence that Col Gaddafi had "personally ordered attacks on unarmed Libyan civilians and was behind the arrest and torture of his political opponents.
The Libyan authorities have previously said they do not recognise the court and were not concerned by the threat of a warrant.
On Sunday, government spokesman Moussa Ibrahim said the court was overly preoccupied with pursuing African leaders and had "no legitimacy whatsoever".
The arrest warrant was welcomed by UK Foreign Secretary William Hague, who said it further demonstrated "why Gaddafi has lost all legitimacy and why he should go immediately".
Mr Hague called on people within the Libyan regime to abandon Gaddafi and said those responsible for "atrocities" must be held to account.