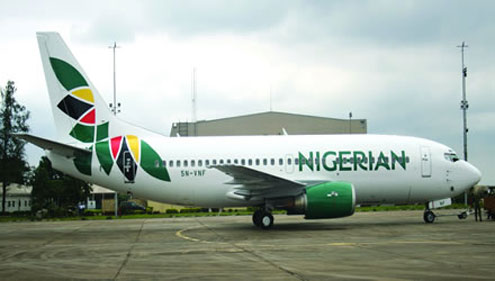 The financial crisis steamrolling Air Nigeria, yesterday, took a turn for the worse when the airline, owned by business mogul, Barrister Jimoh Ibrahim, ran out of fuel and was grounded for nine hours.
P.M.NEWS learnt that hundreds of aggrieved passengers were stranded at airports nationwide for at least nine hours, as Air Nigeria flights were cancelled severally.
It was gathered that at 5 p.m. yesterday, only two Air Nigeria flights had left the Murtala Muhammed Airport Terminal Two in Lagos, Southwest Nigeria.
On the airline's busiest route, Abuja, only 6.05 am and 8.15 am flights had left Lagos airport at 5 p.m., leaving many stranded passengers fuming.
The angry passengers fought officials and threatened to damage facilities at the airport. Security officials were called to restore order.
Mobolaji, one of the stranded passengers who was to be airlifted to Abuja from Lagos at 1p.m., told our correspondent at 4.30 p.m. that he paid extra money to join the flight, only to be delayed for another three hours.
"It's not just the airline business," he said, "the entire country is stuck and we are getting to a point where we will need to get rid of some of our leaders in this country," Mobolaji said angrily.
On 25 May, Air Nigeria could not airlift passengers for eight hours as it ran out of fuel as well. Oil marketers refuse to collect cheques from the airline. They insist on cash.
The operational problems facing the airline may jeopardise a codeshare agreement it unveiled last week with Delta Airline, an American carrier.
The arrangement allows Delta Airline passengers to travel with Air Nigeria even on the routes Delta doesn't operate. It is the same to Air Nigeria passengers.
It is the third agreement that the Nigerian flag carrier will be signing with other global carriers. Others were Ethiopian Airlines and Kenya Airways.
—Simon Ateba