In keeping with his practice, Lagos State Governor, Mr. Babatunde Fashola (SAN), Tuesday celebrated his 48th Birthday with the underprivileged in the State just as he urged endowed members of the society to show more concern and care for the less privileged.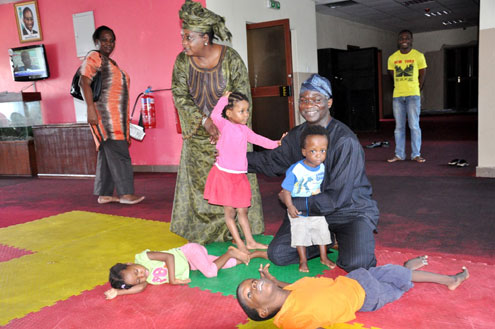 Governor Fashola, who celebrated the day in the company of his wife at the Heart of Gold Children's Hospice with physically challenged children, said there was need for those who have to share with the have-nots pointing out that God has provided enough resources to go round.
Noting that in whatever situation one is, there is someone who is worse off, Governor Fashola declared, "Instead of us complaining, let us be forward looking and let us be supportive of members of our communities and society who are less endowed, less protected than we are.
"I believe the way God created us, he created enough resources for us all if only we are ready to share and restrain ourselves from needless desires and expressions, after all, it is only vanity upon vanity and we will leave all of them and go."
Governor Fashola also urged the people to show more understanding towards the less endowed in our society, frowning at a situation where car owners takeover the dedicated lanes made for the Bus Rapid Transit (BRT) which is principally meant for those who do not have cars.
"I have seen instances where the lane for the BRT which is for people who don't have cars, who use public transport, is being used by private car owners. If you are privileged to own a car, why should you go and encroach in their own lane? I have seen people on pedestrian walkways, meant for pedestrians, trading on the walkway. The walkway is not a trading post. It is meant for those who have to walk to their destinations; they may not have fund even to board a bus. It is not fair", the Governor said.
Giving reason behind his decision to celebrate his birthdays with the less- endowed in the society, Governor Fashola said it is the way he and his wife have chosen to "reconnect ourselves with the other side of life", adding that in every situation one finds oneself, one must give thanks to God for life.
"Many people slept yesterday and did not wake up today. We are thankful to God that we are alive to continue life's ups and downs. We can eat and we can drink and walk around. There are children here who cannot eat," the Governor said.
On what his administration is doing to support the less privileged, Governor Fashola declared, "Although we cannot do everything, we use these opportunities to demonstrate that at least there is a commitment on our part to ensure that we do not leave anybody behind".
The Governor drew attention to the LTV 8 which now includes the use of sign language in reading the news to take care of those with hearing impairment, adding, "It is also a response and a reaction to what we see that some people cannot actually hear and, therefore, we are using sign language to respond to the need of those who are physically challenged in terms of hearing.
"It is a continuous and engaging work and you can see that in the last few weeks, we have revitalised our limb corrective surgery for those who have deformed limbs so that they can get better opportunity to compete in life."
Earlier while welcoming the Governor and his wife, the matron of the Home, Mrs. Theresa Adedoyin, thanked the Governor for his upgrading of the Home recalling that the place was initially a two-bedroom bungalow in another part of Surulere.
Mrs. Adedoyin said there has been an upsurge in abandoned babies in the areas in recent time adding that the perpetrators, who according to her, usually carry out the act in the wee hours of the morning cut across various ethnic groups in the country.
Promising never to disappoint the Governor, the proprietress prayed to God to grant the Governor more strength to do more for the less privileged in the State adding, "You have put smiles on the faces of my children".
The Governor, who was conducted round the Home by the Matron, played and joked with some of the inmates even as he inquired about the medical condition some of them.
He later had group photograph with them and some of the members of staff of the Home.