Kween Onakola, the Jebele singer is back with her distinctive vocals and girlie charm with a new album, Kweendoncome. The album release party cum press parley would hold early July at The Place, Isaac John Street, GRA, Ikeja, Lagos.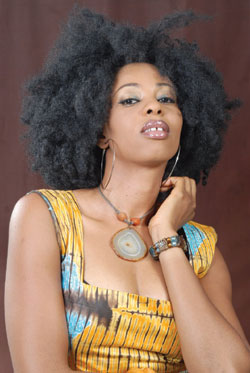 The album is a nine-tracker that includes Jowo Biko, K'adara, and her previous single Jebele, as well as a re-mix of Onyeka Onwenu's Iyi ogogo.
Showbiz Trends learnt that given the input from music experts like Clarence Peters and the Cohbam Asuquo, the album is sure to blow the minds of critics and make her fans proud.
The video for Playa, a track off her album is currently being packaged for release soon. "The choreography for this video is quite unique considering the energy put into it, not just by the dancers but Kween herself. It shows a lot of hard work and professionalism on her part, as well as a resolve to stand out. One of her singles J'owo Biko from the forthcoming Love Drunk compilation is set to hit the music market soon. And the quality of this album will definitely affirm that Kween-don-come," her publicist stated.
With a name synonymous with glitz, glamour and royalty, and an inspiring African dress sense that appeals to the fashion elite, Kween is back in top form.
—Funsho Arogundade