As top saxophonists and jazz performers from across Europe, North America, and Africa prepare to hit Lagos for the third edition of Mike Aremu's Sax Appeal this weekend, the lingering question on the minds of the anticipating Lagos crowd is: who among the several acts billed for the night will win the battle of the sax on the big night.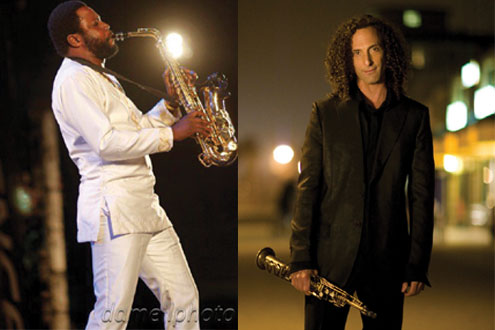 Already tagged Concert of the Year, with a long list of top performers including Grammy Award winning jazz artiste Kenny G, MOBO award winner Yolanda Brown from the United Kingdom, South African eclectic performer Judith Sephuma, Nigeria's Kunle Ayo, talented singer Waje, and widely travelled saxophonist, Mike Aremu.
Come 3 July, from across the princely seats of the Expo Hall of the Eko Hotels and Suites, the ever thirsty Lagos crowd will be starring at the stage with the hunger for more of what it has witnessed in 2009 and 2010.
Sax Appeal has thrown up unforgettable moments in concert experiences in Nigeria. The numerous awe inspiring and spell binding performances will forever be remembered and this year's co-headliner Kenny G is a phenomenally successful instrumentalist who has attracted fans and wowed audiences around the world.
Judith Sephuma thrilled and enchanted guests with her attractive sound at last year's event. British Yolanda Brown is a top performer who continues to recruit fans from all over Europe.
Kunle Ayo has the pedigree of being a fantastic master of the guitar and of course, Mike Aremu is a distinguished performer with a proven dexterity on the saxophone.
Who among these sax heavyweights will win the battle of the sax on the big night? Predicting who among these fine musicians will stage the best performance on the day might prove tricky but one thing guaranteed is, it will go down as one of the biggest nights in music.
The Grammy Award winning American saxophonist born Kenneth Gorelick, will be coming to Nigeria for the first time and to Lagos where he has a large fan base.
He is a smooth jazz saxophonist who majorly plays the soprano saxophone and also the alto and tenor on occasion. He appears on several of his album covers holding the soprano saxophone which is the third smallest member of the saxophone family.
A numbers of Nigeria's top performers like Tosin Martins, Bez and Cobhams have performed at past editions of Sax Appeal. Others are Yinka Davies and rapper MI who staged an amazing live performance of rap music backed by a full band of instrumentalists.
—Funsho Arogundade