A new batch of militants have reported at the Obubra rehabilitation camp for training.
The ex-militants who were sent to Obubra from Rivers State between 23 and 25 June, said the Camp Commandant , Fredrick Aneseh, started lectures on 25 June.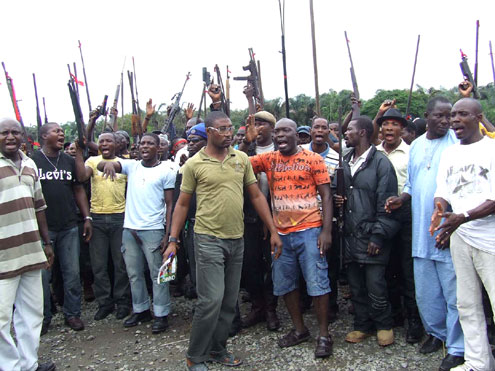 "They are still in the process of transformational lectures being conducted by FEHN. As far as I am concerned they are doing very well. We have 1,200 of them in the camp mainly from Rivers state,"Aneseh said.
He said ex-militants are well behaved, adding "I could not believe that they are ex-militants, their behaviour is very satisfactory. There is hope and they are happy to be here. The facilities are okay."
This batch, he said, would pass out on 4 July when another batch is expected to arrive.
"So far we have trained 16,603 including this batch 14. Hopefully, we would finish the training programme before the end of the year. The gap, you know, was created when we had the election," the Commandant said.
One of the ex-militants, Mrs Okorepirite Okoroji from Tombia told P.M.NEWS that since they arrived the camp, everything has been in order.
" We have been taught many things about how to manage life and stay away from violence. We enjoy and like it.
"I have learnt some things, I know that in life you manage and that in life if you want anything and you are determined, you will get it. It pays to be straightforward in life. You don't get things by force, now you exercise patience and work towards something you want and you will get it."
He promised that when he leaves the camp, he would be transformed and humble. "When I leave here, Iwould be humble and keep to instructions I am taught here and I urge my other colleagues to do the same so they would enjoy the benefits of the traning."
Another Ex-militant, Sunday Letura, who is crippled after he was shot while in the bush, said he was an informant in the camp.
"This problem happened to me in the camp. It was a gunshot. I was shot in the leg by mistake. They arranged to treat me, but as it was not working, I was carried to the hospital, where the amputated me."
He said he has now desisted from the bad things he used to do and has now embraced a new life.
"That new life is that I would not use violence any more. I would like to be a businessman when I leave here, especially dealing in building materials," he said.
He called for help from government to enable him start the business.
By Emma Una/ Calabar