Operatives of the State Security Service, SSS, have rescued a 6-year old girl from her abductors after she spent 13 days in captivity in Benin City, Edo State, South-South Nigeria.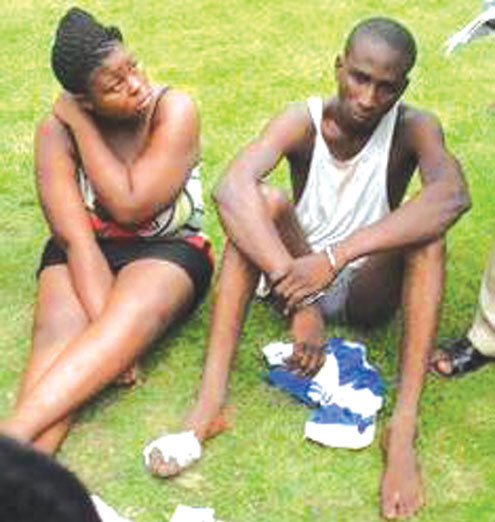 Briefing journalists after the rescue, the Edo State Director of the SSS in Benin City, Mr. Baba Tukur Bello Bakori, stated that they received a distress call from the parents of the girl who was kidnapped by a five-man gang at their residence at Upper Mission Area, Benin City.
The girl's parents reported to the police and the SSS. They swung into action immediately and they had been on the trail of the kidnappers for 13 days.
According to Bakori, SSS investigation revealed that the gang was known with a red car they use for their operations.
He added that the same red car was sighted where the gang's informant, Glory Davies was arrested while trying to cart away the N700,000 ransom paid by the girl's parents.
Davies suspect who had come for the money and a lady accomplice, Rachael Edokwe, 22, were paraded before newsmen after they were arrested.
But Davies denied being a member of the gang that abducted the girl. He claimed to be an engineer, saying he was forced into the crime because the gang threatened to kill him.
Similarly, Rachael said one of the kidnappers was her boy friend. She added that she thought the abducted girl was the daughter of one of her captors.
However, the SSS boss debunked Davies' claims.
Bakori said the suspect was actively involved when he phoned the girl's parents and he was arrested while trying to pick the ransom.
—Yomi Obaditan/ Benin City

Load more