The Lagos State Taskforce on Environment and Special Offences (Enforcement) Unit this morning swooped on area boys at Oshodi and Alausa area of Lagos , South West Nigeria and arrested 217 of them.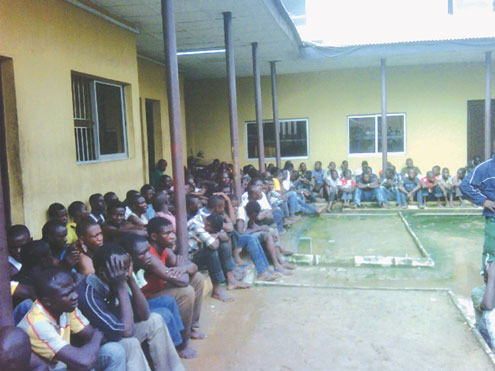 At least, 192 area boys were arrested at Oshodi while another 23 were arrested at Alausa. The street urchins included men, boys and girls and will be arraigned at the Special Offences Court at Alausa today.
Officials of the taskforce swooped on the area boys around 3.00 am under the bridge at Oshodi where they have their abode and parked them in a Black Maria to its office at Alausa.
Last week, 19 area boys were arrested by the taskforce at Mile 12 area of the state while they were smoking Indian hemp at a joint in the area.
P.M.NEWS gathered that today's raid of the area boys in Oshodi lasted between 3.00 am and 5.00 am.
The taskforce officials were armed with guns to ward off any attack the street urchins and the raid was well planned and executed.
The raid on area boys in Lagos which began two weeks ago is on the order of the state government to rid the state off street urchins and prevent them from disturbing the peace of Lagosians as some of them constituted gang of robbers tormenting hapless people.
When P.M.NEWS contacted the taskforce Chairman, Supol Bayo Sulaiman, he said the raid lasted for two hours in the early hours of today and that some of those arrested said they were not from Lagos and that they came to the state to seek greener pasture.
According to him, the state government was determined to rid the state of area boys and make it safe for the citizens, saying that the era where area boys held people to ransom was over.
He added that the taskforce would liaise with the Ministry of Youth, Sports and Social Development so that those arrested who are not from Lagos and had no relations could be taken back to their states.
Sulaiman said the exercise was a continuous one and warned street urchins that the taskforce could swoop on them anytime and unannounced. He urged them to go away from the streets of Lagos .
—Kazeem Ugbodaga

Load more