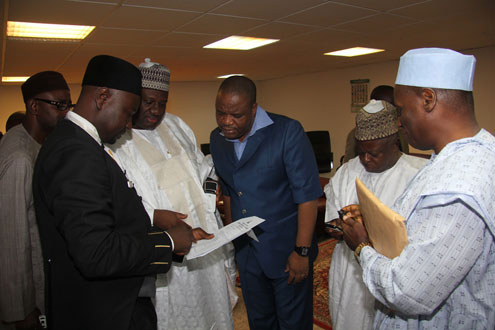 The Nigerian Senate today cleared more ministerial nominees. President Goodluck Jonathan sent 34 names to the upper chamber of the National Assembly on Monday. Seven of the nominees were cleared yesterday.
Those cleared yesterday include: the former Minister of Petroleum, Mrs. Duzani Allison-Madueke from Bayelsa State; former Minister of the Niger Delta, Elder Peter Godsday Orubebe from Delta State and Senator Bala Mohammed who was Minister of the Federal Capital Territory, FCT, Abuja in the last administration. He is from Bauchi State.
The nominees who appeared before the Senate today were: former minister of National Planning, Dr. Shamsideen Usman, his counterpart in the ministry of Mines and Steel Development, Mohammed Sada and the former Attorney-General and Minister of Justice, Mohammed Adoke, SAN.
Answering questions from the senators, Adoke defended his action in stopping some cases he inherited from his predecessor like the case against former chairman of the Economic and Financial Crimes Commission, EFCC, Mallam Nuhu Ribadu.
Adoke said he discovered that the government could not make any case against Ribadu because he was being persecuted for his role as the EFCC boss when his job made him to step on powerful toes.
He also said since government could not prove certain allegations against some people despite the high cost of litigation, certain cases like those against Kenny Martins, suspects in Halliburton scandal and similar ones were discontinued.
The former National Planning Minister, Usman blamed the Central Bank of Nigeria for the misconception about introduction Islamic banking in Nigeria.
He disclosed that the first state to borrow from an Islamic bank is Nigeria was Anambra and not any of the Northern states where Sharia law was in operation.
An architect, the former Minister of Mines and Steel Development, Mohammed Sada, identified lack of infrastructure as the bane of provision of massive houses in the country.
He said some houses built by government in the 80s were not occupied because of the absence of necessary infrastructure.
The nominees screened today were former ministers in the last administration. The exercise continues.
By Moyo Fabiyi

Load more