Deji Falope is one of Africa's foremost television presenters. After many years of hosting MTN's Yello show aired across Africa, he now runs his own production outfit and also hosts the Malta Guinness Street Dance show. Recently, it was rumoured that he is dating May7ven, the daughter of Nigeria's ex-international, Segun Odegbami. In this interview, he speaks about the relationship and his current projects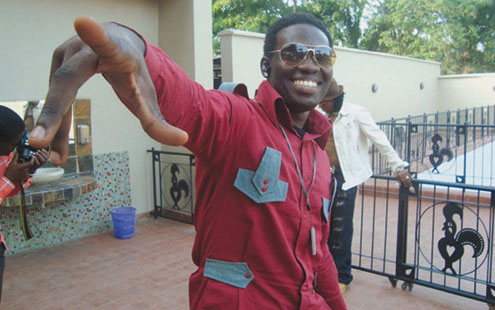 Is it true that you are dating May7ven?
It is interesting that such question is popping up. It shows that people are concerned about my relationship with May7ven. Well, I will say I have one, but it is a working relationship. She is a wonderful woman and I am excited to be working with her. We have done quite a lot of projects together and I discovered that she is a perfectionist, just like I am. We have just finished a project, that is, her new single, Number, in London and Nigeria.
Both of you have been spotted together on many occasions, perhaps that is why the rumour is rife?
Well, like I said earlier, we have a working relationship, so there is no way people will not spot us together. But honestly, it doesn't go beyond that.
So, when are you getting married?
Ah, well, keep your fingers crossed. It's really not a big deal. I am a focused person, so it will surely happen, but now I cannot say when. Just keep your fingers crossed.
Is it true that Guinness Nigeria Plc paid you N20 million for this year's Malta Guinness Street Dance show?
Twenty million naira is a lot of money when you compare my worth around Africa. But what I will not do is to tell you how much I am being paid. My relationship with Malta Guinness is more than money which I can't quantify. We have been working together for a long time and I and the brand have a huge connection. So, if it's N20 million or more, it does not really matter.
So how is your company doing?
BRV is doing very well, thank God and you guys. Over the last four years, we have gathered a manageable client base. We have also been able to perfect our services. Thank God today, we have clients like the Chi family, Emel multinational and a lot more. In fact, we are in talks with MRS and Dangote Group. The future is very bright.
What is your assessment of the Nigerian entertainment scene?
For me, I would say the entertainment industry is growing so fast and many people are not only becoming smart but have started waking up to the business side of the industry. But there is still a big gap between getting quality and just doing a job. I think the problem we have is the monopoly of some aspects of the industry. We have some people with good ideas but lack the financial weight to facilitate them.
How can the standard be raised?
That is what I am trying to say. I am doing all I can to bridge that gap between the people who can project the ideas and their originators. If you have any idea, meet me and let's talk about it. What I would do basically is create an avenue and meeting with those that have the ideas and the premium investors.
What are your prospects?
I would be involved in a lot of partnerships first and I have been talking to a lot of people; I'm sure I would make money but I intend to sustain that wealth and as such, I would go into partnership with other people while I produce qualitative and innovative concepts for the listening and viewing audience.
What is the source of the energy you seem to exude always?
I don't know. Actually, I'm trying to think about it now, but I can't just place it. I don't smoke or do anything like that. The love for what I do really propels me to do more and be different at all times.
How has life after Soundcity been?
I looked at show business, particularly the business side of it, which I took out time to understand and packaged a quality concept for the Nigerian viewing and listening audience. Right now, people watch just any programme on TV and we don't have TV addicts any more because there are little or no quality and creative programmes. This is probably why some people outside the country do not have regards for our content. If you notice when programmes are taken to DsTV or any cable channel, they reject it or complain about the quality. But if the same programme is coming from America or even Dubai, they are not bothered about the quality and the only thing they worry about is if it fits into the African society or how to make it fit. As a businessman and an entertainer, I decided to go back to the drawing board and bring out creative and quality programmes that would wow the audience. That's what I have been doing. Life after Soundcity has been extremely wonderful.
While you were in Soundcity, there was a rumour that you were Denrele's gay partner?
I will be hearing that for the first time. I don't know who made that up, but the thought is actually funny. It never happened. I am also not happy when people say things like that about Denrele. But I guess people are tired of listening to all that now.
But this I must tell you, Denrele is one of the most creative and hard working persons I have ever met. It was fun working with him, in fact, we still do projects together once in a while. That is as far as I know the man.
Have you ever had an encounter with homosexuals?
To be truthful, if I see a homosexual now I may not know, so definitely, I must have encountered some without knowing. Do they have a way they look or what? Maybe if I know about them a little, then I can tell.
There is this claim that homosexuality is very rampant in the country's entertainment scene, is this true?
Like I said, it could be going on, but I can't tell. I haven't seen it myself. Most of these things are what I read in the tabloids.
Tell us how it all started, that is from a commuter bus driver to a celebrated TV presenter in Africa?
I will say my story was written by God Himself. I came from a comfortable background but circumstances led us through hard times. At times, I knew I had to drag myself out of the misery, but to do that, there were lots of challenges. I knew I had the talent to be a presenter as I have always had a flair for entertainment, but there was no one to mentor or support me. I remember when I got a deal to present a 10-minute show on DBN, I did not even have money to transport myself to the studio and I had to trek from UNILAG to Victoria Island on the day that was supposed to be my first day on air. It was when I got there that I heard that the programme had been postponed. After a while I decided to refurbish an old rickety bus my mum had and immediately it was road worthy, I took to the streets. I did not even have complete papers and because I was on TV, I would use a face cap to cover my face while driving. But I couldn't hide myself for long as some passengers would ask "are you not the one on television?" However, I wouldn't say anything, but just continue the driving. The big break came with MTN Yello and the rest is history.
Thank God that today, I have my own production outfit. We shoot commercials and another television show is on the way. I am still with MTN, I host a radio show for the company, while my deal with Malta Guinness is still running. My family is all abroad, my mom, brother and sister. Looking back, I will say I have been blessed by God, but there is still a lot for me to achieve.
As a commuter bus driver then, did you ever envisage you'd come this far in life?
I knew I was going to get here, but the question I had to solve was how. I became a bus driver as a means to make ends meet. I had to wear good clothes on set and transport myself to the studio, but there was no money. So I had to do something. Driving a bus was the hustle that made me look good to DBN and NTA. It was from it I got money to buy good clothes.
What was your memorable experience as a bus driver?
There was a day I needed money for costume and decided that whatever I made on that day would be spent on it as I had a recording that night. At the end of the day's work, I just realised my conductor had disappeared and I had to wear an old shirt to record while I could not even afford dinner that night.
—Bayo Adetu

Load more