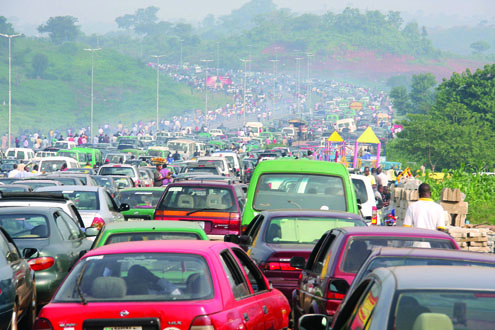 Workers, students and other commuters trying to enter into the Abuja city centre from all the adjoining settlements this morning practically went through hell as they were stuck in a traffic gridlock which stretched tens of kilometres.
Some of those who left their homes around 5 am were still stuck in traffic which was caused by checkpoints mounted by soldiers in all entrances into the city centre as at the time of writing this story. Combined team of soldiers and policemen are conducting manual checks on vehicles in search of explosives.
The unprecedented traffic jam has resulted in increase in transport fares by about 400 per cent, while some vehicles broke down due to overheating. The faultly vehicles has further compounded the traffic situation.
The worst hit area is the Abuja to Keffi highway which connects the FCT and Nassarawa State. Most low and middle income earners working in Abuja are also living in settlements along the road which also links states in the Northeast part of the country to the capital city.
Soldiers had set up a road block at the Nyanyan end of the road since last Monday as part of measures to check incessant bombings being carried out by Boko Haram, a fundamentalist Islamic sect. But the traffic gridlock caused by the road block was compounded as the soldiers moved their barricade to the Kugbo axis of the road, thereby blocking all the exit points commuters had previously used to evade passing through the road block.
Worse still, the soldiers placed the barricade in a way that ensured that only one vehicle can pass through it at a time and this has resulted in traffic gridlock stretching as far as Masaka, a distance of over 20 kilometres away from the roadblock. Some commuters are returning to their homes after spending hours in the traffic jam which is not showing any sign of dissipating.
Mr Femi Jayeola, an Abuja-based businessman living at Federal Housing Estate, Karu, Abuja told P.M.NEWS that he left his home around 5.30 am to go into the city, a trip which ordinarily should last 15 minutes.
Mohammed Usman, another resident living in Masaka also told P.M.NEWS that he left his house around 5 am and is yet to cover up to five kilometres as at the time of writing this story.
He said rather than manual checking, the security agencies should employ the use technology like bomb detectors to fish out explosives.
But he was still stuck in traffic as at the time of writing this story and was contemplating returning home.
P.M.NEWS also learnt that many offices, notably, the Federal Secretariat in are empty as workers are stuck in traffic. Some commuters and motorists who have urgent appointments to keep have abandoned their vehicles and are now trekking to the city.
There were also similar security checkpoints in Deidei and Madalla in the Abuja –Kaduna expressway. Also, commuters coming into Abuja have to confront roadblocks at the Gwagwalada area of the city. Another roadblock is also mounted at the city gate area of the city. P.M.NEWS gathered that the checkpoints also caused heavy traffic jam. The Army had on 23 June directed its men to mount roadblocks across Abuja and conduct stop and search on motorists.
This followed a bomb attack carried out by Boko Haram at the Police Headquarters in which several lives were lost and about 70 vehicles were destroyed.
A combined team of the soldiers and men of the police anti-bomb squad have also been deployed to set up check points around important public buildings, hotels and strategic locations within the city.
This has also led to traffic build up across the city as motorists try as much as possible to avoid areas where the check points are located. For example, rigorous checks are being carried out on vehicles and persons going into the Transcorp Hilton Hotel, Maitaima, Abuja and other high class hotels in the city. This has also led to build up of traffic in which a motorist may spend over an hour before getting to the check point.
— Oluokun Ayorinde/Abuja