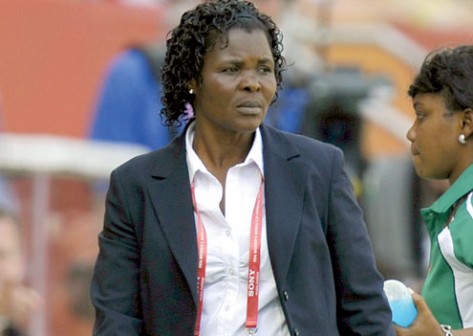 For the Super Falcons of Nigeria, the party is over almost as soon as it began. Although the chance of qualification to the quarter of the tourney has passed and the curtain has fallen on the Nigerian ladies, but nothing can dampen the hope and enthusiasm of the Uche Ucheria-led Falcons.
The Super Falcons, defeated by the narrowest of margins in their opening two matches, have no mathematical chance of qualifying for the quarter-finals of the FIFA Women's World Cup Germany 2011. No one would deny that it has been a massively disappointing campaign for the African champions.
The sense of anti-climax is all the more acute given that the U-20 side reached the final of the showpiece youth event in Germany last year. And yet this new generation, still very inexperienced, hints at a rosy future for the Super Falcons.
Desire Oparanozie and Uchenchi Sunday, the youngest members of the senior squad, symbolise the promising future of Nigerian women's football. Oparanozie will celebrate her 18th birthday on 17 December, whereas Sunday will turn 17 on 9 September. Both forwards are veterans of the team that finished runners-up in the FIFA U-20 World Cup last year, along with another six of their team-mates in Germany, more than a third of the senior squad.
Despite the overwhelming feeling of disenchantment, Sunday remains philosophical. "It's hard to be already out of the competition of course," she mused. "But it's the World Cup, these things happen." Fellow front-runner Oparanozie puts her own positive slant on things. "I feel bad because we passed up the chance to qualify for the quarter-finals. But I can say that I'm also very happy because we played really well in both matches so far."
The livewire forward, together with her long-time friend Ebere Orji marauding down the left flank, was undoubtedly one of the standout performers in their matches.
"The problem is that we just could not get the goals in both matches," reflected Sunday. In fact, before the we conceded the goals in both mathces we were the better side. "We resisted the Germans for a long time because we went out onto the pitch to win," added Oparanozie. "We wanted to play a passing game, we knew that we had to stamp our authority on the match", she said.
Saying "We have a lot of young players in the squad, we are going to gain in experience. We place a lot of hope in the future", she declares with an air of conviction.
Indeed, their tournament swansong against Canada affords the Nigerians an opportunity to make a new start and depart with their heads held high. "We want to finish our campaign in style, we won't let this match slip," asserted Oparanozie. "As for myself, I want to score a goal!" she added with a smile.
So as they head for home shores, the Super Falcons are already looking onwards and upwards. "I believe that this team has a brilliant future," concludes Oparanozie. "If we work well and lay down firm foundations, in four years we'll come back stronger."