President Goodluck Jonathan of Nigeria has promised to reward the efforts of the top-three states contingents with prize money of N45 million at the end of the 17th National Sports Festival, which is going on in Port Harcourt, Rivers State.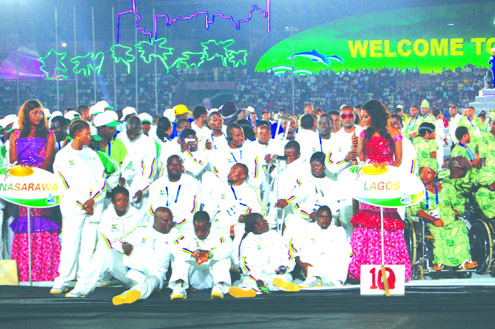 Jonathan made this promise while welcoming athletes and officials at the opening ceremony of the Sports Festival last night at the Liberation Stadium in Port Harcourt.
The prize money was the first of its kind in the history of the festival. According to Jonathan, the state that will emerge winners will get the sum of N20m naira for their efforts, while the the second and third teams will get N15m and N10m respectively plus trophies.
The trophies for the Games was also unveiled at the opening ceremony. Prior to his speech, the president welcomed all the teams to the championship as they performed dramatic and colourful traditional match past.
Jonathan urged the athletes to act as professionals, reiterating that the youths are the future of the country.
"The National Sports Festival affords us the opportunity to celebrate tomorrows leaders and showcase our unrivalled passion for sports," he said.
He added that Nigerian sports has not achieved its full potentials given that the country is blessed with many talents.
"There's need for improvement of sporting facilities. I have stated in clear terms that Nigerian sports is not anywhere near where it should be,we have talents waiting to be discovered and we need a national transformation," he said.
Meanwhile, the opening ceremony was simply sublime. The fireworks, traditional dances and performances by the state contingents were simply breathtaking. The use of bright colours, many children and suspended symbols to signify what Rivers State stands for was first of its kind in Nigeria.
— Seun Bisuga/Port Harcourt
Load more