A jilted husband Andrew Amonu has been charged to Oshodi Magistrate's court for allegedly battering his estranged wife, Ngozi, 35.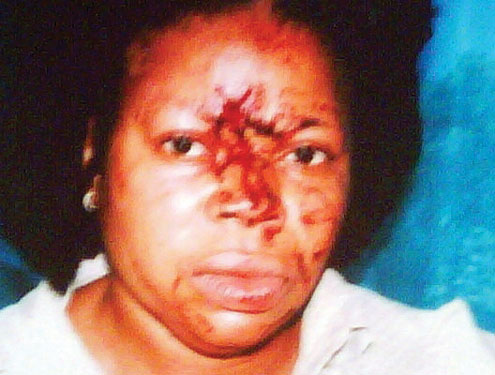 The 49-year old Andrew was alleged to have battered and attempted to strangle Ngozi after she dumped him.
The incident happened at 1 Arowojobe Close, Oshodi, Lagos State Southwest Nigeria.
The cause of the fight, P.M. NEWS gathered, was Ngozi's decision to dump Andrew after 10 years of marriage with four children.
It was gathered that Andrew married Ngozi when he was doing well in business. Over the years his business nose-dived and he became jobless.
But before his business collapsed Andrew claimed he gave her about N550,000 to open her own patent medicine store business. After giving her the money, Andrew's business collapsed.
According to Andrew, Ngozi started to behave in a strange manner and became wayward.
And when Andrew attempted to caution her, she decided to dump the man. She went to Oshodi customary court seeking to divorce him.
Ngozi claimed that she no longer loves him. She said he has left every responsibility to her alone including paying house rent, catering for their children and even the man himself.
P.M. NEWS gathered that Andrew could not bear the trauma of Ngozi dumping him, especially at this period things are really bad for him.
He alledegedly grabbed Ngozi's neck and attempted to strangle her.
He also used broken mirror to stab her in the face before she was rescued by neighbours. Ngozi sustained deep cuts in the face during the attack.
Andrew's action has landed him in more trouble as he was charged to court before Mrs Osho Adebiyi for assault.
—Cyriacus Izuekwe