The Lagos State Police Command this morning paraded an unemployed graduate, Akolade Arowolo, 30, who allegedly stabbed his wife, Titilayo, a banker with a first generation bank, to death.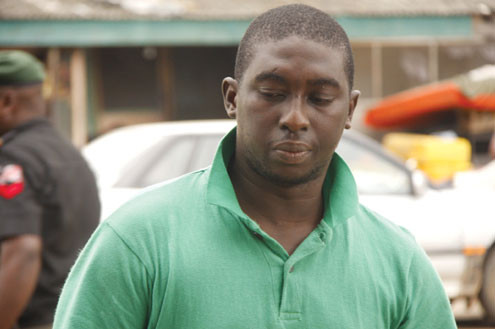 Briefing journalists at the state Police Command Headquarters in Ikeja, the State Police Public Relations Officer, PPRO, DSP Samuel Jinadu said Akolade allegedly committed the act on 21 June, 2011 at the couple's residence, 8, Akinseinde Street, Isolo, Lagos, Southwest Nigeria.
The suspect, the PPRO added, was apprehended the following day by the police at the Aswani Division.
Jinadu said the case is currently being investigated by the state CID, Panti, Yaba, Lagos, while the autopsy report on the late Titilayo was being awaited.
In the meantime, Jinadu stated that Akolade will be referred to a psychiatric hospital where he will undergo a test to ascertain his state of mind.
Apparently acting on the instruction of his lawyer, Akolade Arowolo did not answer reporters' questions. Instead, he displayed some marks on his body claiming that his wife stabbed herself to death.
His lawyer, Vincent Obianoye told journalists that his client does not want to speak to the press so as not to jeopardise police investigation into the incident.
Obianoye expressed regret over the incident and consoled Titilayo's family.
He also cautioned journalists not to write reports that might prejudice the matter.
Arowolo allegedly stabbed his wife, Titilayo, a 29-year old banker to death at their Isolo residence in Lagos, Southwest Nigeria on 24 June, 2011.
A report said a few moments later, Akolade was sighted by the police at a road block in Isolo with blood soaked shirt driving an equally blood stain Honda Accord car, 2006 model.
He was accosted by the police. As he could not give a satisfactory account of himself to the police, Akolade was said to have deceived policemen on his trail and escaped on a bike.
However, he was arrested a few days later. The police at Aswani Isolo that intercepted him in the blood stained car later transferred the matter to the State Criminal Investigation Department, SCID, Yaba, Lagos for thorough investigation.
Neighbours and family members could not fathom what transpired between the couple before Akolade allegedly murdered his wife of three years and mother of their only two-year old daughter.
But in a twist, Titilayo's family lawyer who also doubled as her family spokesperson, Mr. Nelson Ekoh, told a national daily that he suspected Akolade might have used two knives and a hammer to murder his wife.
The lawyer said when he visited the scene of the crime, he saw a hammer and two knives.
Ekoh also added that he suspected Akolade might have murdered Titilayo for money making ritual because one of her internal organs was on the floor inside their flat.
—Wole Adeboye & Dedeigbo Ayodeji