Nobel Laureate, Prof. Wole Soyinka says he has no sense of regret if he decides to quit public life today, saying that he believes there are people who can replace him.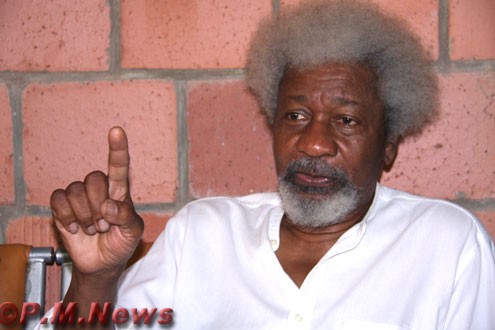 Soyinka spoke at a symposium to mark the 45th birthday of the National President of Campaign for Democracy, Dr. Joe Okei-Odumakin held at Airport Hotel, Ikeja, Lagos, South West Nigeria on Monday.
According to Soyinka, he gets tired when he hears people say that "who is left? Gani is gone; this one is gone and this one is in the hospital and so on and there is nobody again to continue the struggle.
"I always point out that if you lose faith in the young generation, you become blind to its potentials. When I look at the young generation, I recognise genuinely committed people," he said.
"I have absolutely no sense of regret if I declare at this point that you won't see me in the public again and what is wrong with that?" he stated, adding that people like Joe Okei-Odumakin had shown that people are still around to continue in the struggle to liberate Nigeria.
"Joe Odumakin is faithful to the cause. I have had the pleasure of sharing tear gas with her and I looked forward to sharing an enduring achievement with her. You are the legacy," he added.
Soyinka also lamented that some legislators in Nigeria earned more than the President of China with nothing to show for it and without being creative, adding that "look at China's economy, look at her productivity and innovation."
The Nobel laureate further said he feels sick whenever Nigerians fail to turn out in millions to march against injustice, saying that even a small country like Syria could produce over a million people coming to march against the government rather than around 1, 000 people staging a march in Nigeria with a population of over 150 million people.
"There can't be too much march against injustice if not backed up by the population. Nigerians, let us march for injustice," he said.
Also speaking at the occasion, Hafsat Abiola-Costello decried the bad leadership in Nigeria and called for a march that would involve millions of Nigerians against the government as it was done in Egypt.
According to her, Nigeria had failed to make progress because of bad leadership and urged the people to challenge and hold their leaders accountable. Ondo State Governor, Dr. Olusegun Mimiko, at the occasion said while Hafsat called on the people to challenge their leaders, it was also important for the people to celebrate their leaders who had performed creditably well.
He stated that innovations were being introduced in Ondo State which had helped in impacting the lives of the people. The celebrant, Okei-Odumakin called on all Nigerians to brace up in the fight against corruption, adding that "the only thing we can do now is to stop agonising; we must remain united in our fight against corruption." Others who spoke at the symposium were Gani Adams, Coordinator, Oodua Peoples Congress, OPC; Pastor Tunde Bakare of the Latter Rain Assembly; Pastor Grace Aiyedogbon, Coordinator, Women Arise while Jimi Agbaje, Yinka Odumakin, among others were present at the celebration.
—Kazeem Ugbodaga