At least five persons were confirmed dead, 33 others who were critically injured rescued while at least 20 others were still trapped this morning under the rubble of a collapsed building at 4, Mogaji Lane, Idumota, Lagos Island, Lagos, Southwest Nigeria.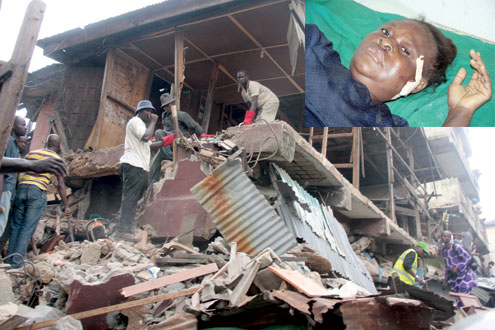 Eyewitnesses told P.M.NEWS this morning that the 4-storey building erected about 10 years ago collapsed at about midnight.
The corpses so far recovered have been taken to the Lagos Island Hospital mortuary while the 33 persons rescued have been taken to various hospitals for treatment.
As at the time of filing this report, officials of the Lagos Fire and Safety Services, the Lagos State Emergency Management Agency, LASEMA, the National Emergency Management Agency, NEMA, the Lagos State Ambulance Service, LASAMBUS and youth of the area were still busy with the rescue operation.
According to eyewitnesses, the youth in the area were the first to arrive the scene and remove the five dead bodies.
It was also gathered that a property developer, Chief Taofeek Eletu, constructed the building. Some of the government officials on rescue mission told P.M.NEWS that the building collapsed because of poor workmanship and inferior materials used in its construction.
Because of the disaster, most shops around Idumota area were shut this morning. Commercial activities have been paralysed at the commercial nerve centre of the Lagos Island.
Rescue operation was ongoing up till the time of going to press as officials were making frantic efforts to rescue more than 20 persons believed to be trapped in the building.
One of the survivors, Stephen Egede, a commuter bus driver who hails from Ebonyi State, ascribed his escape to the mercy of God on his family. Egede said he had just entered his room after yesterday's business and as he was in the bathroom he noticed that the building was sinking and blocks falling.
He said he saw a space and bolted out of the building through the little space.
He expressed delight that his wife and their 2-month old baby also escaped unhurt.
Another survivor, Oliver Nzubeikeja, a trader on Lagos Island, said he was in his room with his sister when the incident happened. The building collapsed on them. The Anambra State-born bachelor said they were trapped until the youth in the area rescued them. Both tenants were on the third floor of the collapsed building.
As Stephen and Oliver were narrating how they survived, a woman resident simply identified as Mama Lad was brought out of the debris of the collapsed building dead.
—Paul Sanusi & Yisa Jamiu

Load more