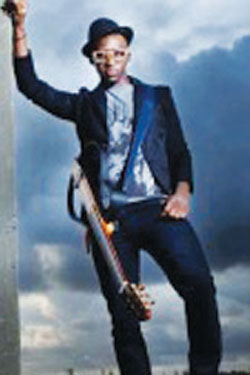 After a long period of barely concealed anticipation, fans of Nigeria's rising alternative soul music artiste, Bez Idakula, can finally heave a huge sigh of relief as the bespectacled musician has concluded plans to release his debut album Super Sun this July.
According to a statement from the artiste's record label and management team, CAMP (Cobhams Asuquo Music Productions): "The Super Sun career debut from Bez is an album that the world needs to listen to. The vocal prowess and verbal dexterity of the artiste, exquisite musical arrangement and superb production are elements which would ensure that this album is a keep-sake."
Showbiz Trends learnt that the album, a career debut from the talented artiste is a 13-tracker, which was entirely produced by Cobhams Asuquo, with the exception of one track produced by IBK. It captures the rare essence of Bez.
The singer experiments with new upbeat and groovy rhythms, drawing from fresh acoustic influences as he takes the listener on a journey of self discovery, love and inspiration.
He gently fuses an understated and unusual hybrid of soul, jazz, R&B and hip-hop music that sets him well apart from the main stream Afro-hip-hop movement. The album features hits such as Zuciya Daya (One Heart), More You, Stop Pretending and the self titled Super Sun.
A natural performer with a charismatic and playful stage presence, Bez has already opened for international acts like Asa, Angie Stone and Yolanda Brown in a series of high profile shows and events like the Lagos Jazz series, Smooth FM's 'Love Music, Love Life' luxury concert and Sax Appeal 2.
He has also performed alongside Africa's premiere entertainers like Nneka, Tuface, Mike Aremu, South African based Judith Sephuma and M.I.
—Funsho Arogundade

Load more