Uche Okechukwu is the former Super Eagles' defender. Okechukwu fondly called 'Gentle Giant' in his playing day speaks about Super Eagles' recent performance on a Lagos based radio monitored by SUNDAY AKINTOYE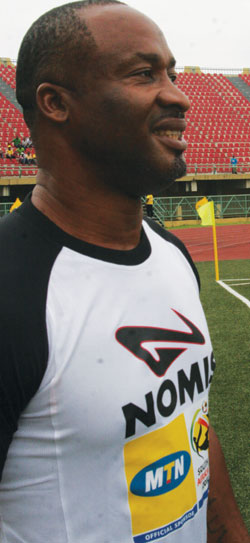 How would you assess the Super Eagles under the leadership of Samson Siasia?
The team are doing well for now. Their performance against Argentina and Ethiopia are not bad. Nigerians may not be satisfied with their performance against Ethiopia but they are new team under a new coach which I believe will mature in a few years to come.
Are you saying that Nigerians are not patient enough with the Super Eagles?
Few Nigerians are patient with the Eagles. It is a normal thing because football nowadays generates passion and emotions among fans all over the world.
A lot of people said there is no significant improvement in the Eagles in their recent matches, what is your take on this?
The team are still new with the coach. We need to give them at least two years to work together before we can start criticising them. For now, they are doing well and I believe the Eagles' future is bright under Siasia.
Is there any the player who has impressed you so far?
All the players in the team have their own strengths and weaknesses. It will be difficult for me to pick a player. So far so good all the players are good in their respective clubs.
What can make the team formidable in their subsequent matches?
The players need to be disciplined and remain loyal to their coach. There should be no room for indiscipline, players who go against the code of conduct of the team should be punished accordingly.
A good coach should talk to the players regularly on phone He should know what is happening to his players in their various clubs. If Siasia is doing this, I think he will have the cooperation of the players.
The Black Stars of Ghana, are organised and better in terms of cohesion and quality of play, do you see the Super Eagles playing better than the Ghanaians?
I believe the Eagles need to be given time to mature. I don't think Ghana has better players than Nigeria. We also have good players, what the Super Eagle need now is to play like a team, which they did against Argentina in Abuja.
Load more