Comedian of the Federal Republic of Nigeria, Gbenga Adeyinka 1st, is at it again. This time, the indigenous comedian is putting final touches to the hosting of his annual comedy festival, Gbenga Adeyinka & Friends.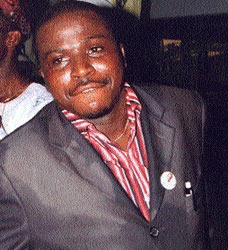 The entertainment packed event is being planned in partnership with Enzymes Communications, the branded entertainment and events specialists.
Abimbola Otubu, Head of Business, Enzymes Communication said his company in conjunction with Gbenga Adeyinka has identified different touch-points to attract and engage the Ibadan populace in a very exciting and impactful way. And he promised that the show will be "entertainment at its peak."
On his part, Adeyinka noted that this year's edition of the comedy would no doubt be different from the previous edition, as this has become his usual character. He noted that the first of the distinguishing traces of the event is the venue, which has moved from Lagos to Ibadan.
"The management of Laughter Incorporated, through a think-tank team did a research that revealed that the Lagos showbiz arena is gradually getting saturated, and we felt the need to move out of Lagos and reach out to other fans and entertainment lovers outside Lagos.
"The team further researched on what part of the country needs to be touched and the South West came to our mind. However, Ibadan became the choice venue because it stands out as the rallying point for the South West," Gbenga Adeyinka said.
Subsequently, other South West states would be touched by the Gbenga Adeyinka & Friends train in years to come and later other parts of the country, Gbenga Adeyinka was quick to note.
—Funsho Arogundade

Load more