Lagos State Governor, Mr. Babatunde Fashola (SAN), Thursday reviewed the last 1, 500 Days of his administration noting that the Government has not only kept faith with its promises but has also remained connected to the people.
Governor Fashola, who fielded answered from newsmen, who wanted to know why a formal event was not held to commemorate the 100 Day milestone, after he had commissioned the group head office of Japaul Energy and Oil Services located along the expanded Dr. Nurudeen Olowopopo Road, in the Ikeja Central Business District, said his administration has always used the 100 days concept as an accounting process to reach the people.
The governor told the newsmen, "If you recall, over the last 1, 500 days, we have met diverse sectors of our society, politicians, civil servants, tradesmen, artisans, youth groups and diplomatic communities and sometimes we have broken ourselves into groups going into the three senatorial districts to hold town hall meetings".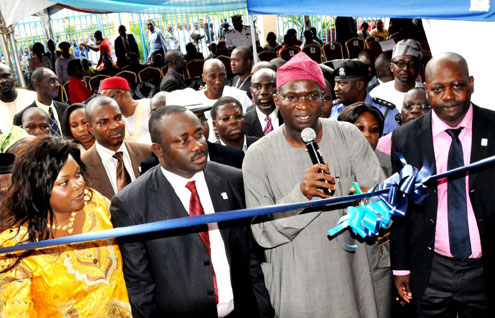 "Sometimes, we have spent the day just going round and inspecting and you have been with me in some of the trips. Things continue to change; the most important thing is that we remain connected to our people whether we sit down in town hall," he said.
On the achievements of his administration in the last 100 days, Governor Fashola declared, "We have won an election against all the parties in Lagos, a very crushing defeat that we inflicted on our opponents; it showed the superiority of our ideas as accepted by the people of Lagos that Action Congress of Nigeria clearly has the superior programme and plan for the development of Lagos."
"When you look at all of the 67 legislative offices, state and federal legislative offices, there was simply no vacancy and we won all of the seats and, therefore, that was one major achievement," the governor said.
He continued: "We have since constituted government, a new cabinet has been sworn in and between 1, 400 days and today, we have passed four new laws. I have inaugurated the State House of Assembly and they have started work in earnest and have passed few resolutions that you might be aware of', some I am aware of and have acted upon them".
"We have passed four new laws that will significantly impact on the lives of our people, a law that recognizes the special status of the physically challenged people."
We have passed a law to protect historic sites and historic buildings, we have passed a law on Public Private Partnership (PPP) and we have also passed a law that will enable us commence the registration of citizens through the ID Card. We have added a fleet of 100 new compactor trucks to enable us improve our capacity for waste management. We showed you then our recycling process in that plant where we are converting all of the waste plastics, pure water sachets and bottles into plastic bags," Governor Fashola said.
Thanking the Body of Permanent Secretaries and the Local Government Chairmen for holding forte while the cabinet was yet to be constituted, Governor Fashola declared, "they took leadership, they took responsibility, going round the local governments, sensitizing the people, managing and clearing refuse," adding that the 1, 500 days was just a milestone day as government continues to function.
Speaking on the newly commissioned House, Governor Fashola noted that it was the expansion of the Dr. Nurudeen Olowopopo Road in the Central Business District that has led to the rapid growth in infrastructure development in that axis.
"It is the expansion of that road that has led to the increasing development and building of houses in this axis of Lagos and, as you know, this is part of the Central Business District of Ikeja. Businesses come to take position because government has done what it should do, to provide infrastructure to enable development. It will be able to address those other issues like providing job opportunities," governor Fashola said.
He took a swipe at critics of his administration who said expansion of the road was a waste of resources adding, "They should come and see what this road has brought. They are voodoo economists; they do not know anything about government or governance".
The governor was flanked by the new Commissioner for Information and Strategy, Mr. Remi Ibirogba and the Special Adviser on Information and Strategy, Mr. Lateef Raji, among other top government officials who also witnessed the commissioning.

Load more