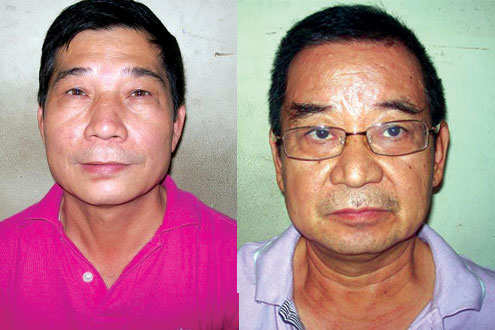 A Taiwanese nationale, Foncair Sen accused of importing cocaine into Nigeria without lawful authority was this afternoon sentenced to 30 years imprisonment by a federal high court sitting in Lagos, Southwest Nigeria.
His alleged conspirator, a Chinese Wang Riahcrd was sentenced to 18 years imprisonment.
However, the three Nigerian clearing agents alleged to be their accomplices, Inua Mohammed, Ezeala Kingsley and Godswill Asonugha, were discharged and acquitted.
The National Drug Law Enforcement Agency, NDLEA, Femi Oloruntoba called 18 witnesses and tendered ( A to Z) documents while the defendants' counsel, Chief Benson Ndakara leading four other lawyers led the accused persons who testified for themselves in evidences.
At the end of the trial, Ndakara made a no case submission. But the presiding judge, Justice Okon Abang, dismissed the no case submission and ordered the accused persons to enter their defence.
Reviewing the facts of the case, Justice Abang said the prosecution proved its case beyong any reasonable doubt against the Taiwanese and the Chinese, the first two accused persons.
He said the first accused person imported the container in his company's name from Chile. In the bill of lading, the container was said to be containing cigarattes.
But when the container got to Nigeria the name of the importer, the consignee, was changed from the Taiwanese company to Hon. Mike Njoku who was an unknown person while the content of the container was changed from cigarettes to personal effects.
The judge said the Taiwanese did not also bother to find out whether cigrattes were a contraband or not.
In the case of the second accused person, the Chinese that was sentenced to 18 years, the court held that there was evidence that they collaborated to import into Nigeria from Chile the 450.4 kilogrammes of cocaine.
On the other three Nigerians, the judge said they cannot be said to be conspirators as the clearing of the said container was the performance of their duties as clearing agents, since there was no evidence to show that the Nigerians facilitated the importation of the container in which the cocaine was concealed.
Therefore, the court discharged and acquitted them.
The five suspects were arrested in July 2010 and docked in the Federal High Court on a four-count charge of illegal importation of cocaine into Nigeria.
According to the charge filed before the court by the National Drug Law Enforcement Agency, NDLEA, Assisant Director of Legal services, John Gima, the Chinese and Taiwanese between March and July 2010 at Ibadan and Kano in Nigeria and without lawful authority conspired to import 450.4 kilogrames of cocaine into Nigeria from the Republic of Chile while the three Nigerians who are clearing agents on 22 July, 2010 at the Tin Can Island port in Lagos aided them by trying to clear the containers containing the cocaine.
All the five accused persons pleaded not guilt to the charge at the commencement of the trial last year.
— Akin Kuponiyi

Load more