The Chinese and Taiwanese citizens who imported a container load of cocaine into Nigeria in July last year were found guilty today by a Federal High Court sitting in Lagos.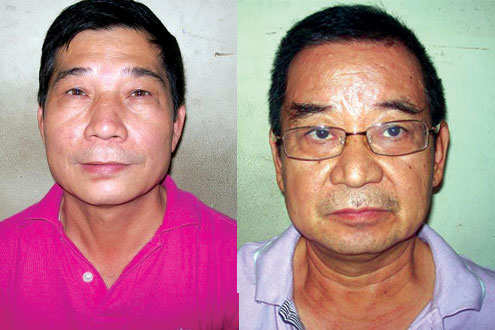 They were yet to be sentenced as at the time of filing this report.
The 450.4kg of cocaine with a street value of over N4 billion was seized by the National Drug Law Enforcement Agency (NDLEA) last year.
Spokesperson for the agency, Mitchell Ofoyeju,who announced the seizure disclosed that the cocaine was discovered by personnel of the agency after it figured out the major drug syndicate that specialises in the unlawful smuggling of cocaine from South American countries to West Africa.
Also commenting on the seizure Chief Executive of the agency, Ahmadu Giade, said that the cocaine was imported from Chile, and that some barons in the cartel, including two Chinese nationals have been arrested alongside their clearing agent who is a Nigerian.
Giade described the seizure as a major breakthrough in the country's counter narcotics efforts, adding that this is the second largest cocaine discovery at the Tin Can Island Ports in Lagos State.
"The entire operation was intelligence-based and professionally executed. This is the second largest seizure of cocaine next to the 14.2 tons made at the same port in 2006," he said.
"The quantity is frightening and the street value paints a horrendous picture of the illicit drug trade. Apart from the estimated street value in the country, the value would have doubled in Europe. The seizure is exciting to us. It is also a wakeup call for all hands to be on deck,." Giade stated further.
The NDLEA boss assured that investigations are ongoing to get other members of the syndicate arrested, and that it had kept tab on the consignment which originated from Chile and passed through Peru, Bolivia and Antwerpen in Belgium before getting to Tin Can Island Port.
"The drug was neatly concealed in customized floor wood inside a container which was cleared and taken to a private warehouse at Iganmu, Lagos," he said.
The Nigerian accomplice, Alhaji Inua Mohammed, who reportedly cleared the container containing the hard drug at Tin Can Island Port was reported as saying that he was contracted by the Chinese to clear the consignment.
"I am a clearing agent. Richard Wang came to me to clear a container. He told me the container contained cigarettes and gave me 3 million naira for the clearance. It was after my boys cleared it out of the port that NDLEA officers intercepted them," Mohammed was quoted as saying.
—Akin Kuponiyi