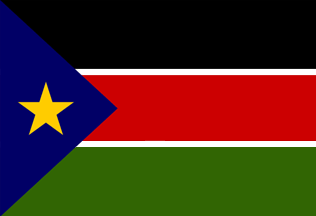 South Sudan, the World's 193rd nation was born midnight, after two civil wars running over five decades that cost the lives of 1.5 million people.
In the new country's capital Juba, streets pulsed with excitement. Residents danced, banged on jerry cans and chanted the name of the world's newest president, Salva Kiir. One man kneeled and kissed the ground as a group ran through the streets singing: "We will never, never, never surrender."
"Ah, I'm free," said grinning Daniel Deng, a 27-year-old police officer and former soldier.
The Republic of South Sudan earned independence at 12.01am, breaking Africa's largest country in two. It marked the culmination of a January independence vote, which was guaranteed in a 2005 peace deal that ended the most recent north-south war.
But after the celebrations die down, residents of South Sudan face an uphill climb. While the new country is oil-rich, it is one of the poorest and least-developed places on Earth. Unresolved problems between the south and its former foe to the north could mean new conflict along the new international border, advocates and diplomats warn.
The early morning celebrations were joyous for the freedom gained, but tinged with the memories of family lost. At least two million people were killed in Sudan's last civil war, from 1983-2005.
"I came here for this moment," said Chol Allen, a 32-year-old minister who escaped Sudan in 2003 and eventually settled in Memphis, Tennessee. He returned to Juba two months ago for the midnight party, though he plans to go back to the US, where he has a four-year-old daughter.
"We were all born into war. All of us," he said, then pointed at a crowded pick-up truck of youngsters. "This generation will see the hope of the newborn nation."
John Kuach, a former child soldier who joined the army after his father died in fighting with the north, first fought at 15. At dinner last night, he draped the South Sudan flag around his shoulders and called today "a big day."
South Sudan is expected to become the 193rd country recognised by the United Nations next week and the 54th UN member state in Africa.
Later today world leaders will attend a celebratory ceremony. UN secretary general Ban Ki-moon has already arrived and former US secretary of state Colin Powell will also attend, with Sudanese president Omar al-Bashir, whose country has already recognised South Sudan.
The young government faces the huge challenge of reforming its bloated and often predatory army, diversifying its oil-based economy, and deciding how political power will be distributed among the dozens of ethnic and military factions. It must also begin delivering basic needs such as education, health services, water and electricity to its more than eight million citizens.
Abdule Taban wore a wide smile during the night's street party, but the 25-year-old was also reflective.
"In independence we are going to have hospitals and schools and a lot of development around here. Our mothers and sisters died in the past. Hospitals were very far from us," he said, as South Sudanese dusted in white cow dung – a traditional camouflage here – danced around him.
A draft constitution passed this week lays the groundwork for the president and legislators, who were elected last year, to serve out their five-year terms. The legislature's few opposition lawmakers are unhappy with the draft, but it now serves as an interim constitution until multi-party elections are held.
A UN peacekeeping mission with a 10,000-member force has monitored implementation of the 2005 peace deal, but has drawn criticism for its failure to protect Sudanese civilians caught in violence along the north-south border and in the south, where conflict has killed nearly 2,400 people this year alone.
The UN Security Council has approved a new peacekeeping force for South Sudan, authorising the deployment of up to 7,000 military personnel and 900 international police, plus an unspecified number of UN civilian staff including human rights experts.
From agency reports and Wales online

Load more