God might have answered the prayers of missionaries whose schools were taken over by the previous government in Edo state as Governor Adams Oshiomhole is set to return the schools to the former owners.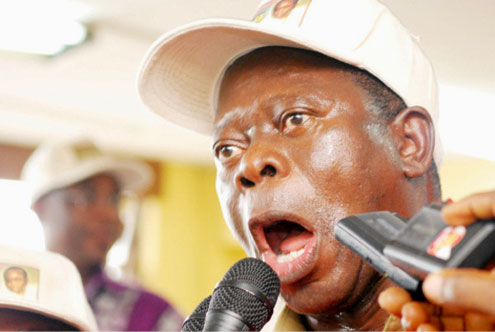 The governor says the state government is considering the possibility of returning the schools to ensure that government's investment in the schools are not left to rot.
Speaking at the foundation-laying of a new Model College at the old Pilgrims Baptist College, Ewohinmi, Edo Central, the governor assured that a memorandum of understanding would be signed to ensure that children of the poor have access to such schools.
According to Oshiomhole, "my late wife told me about the school and how it has been abandoned. When I came, I wanted to walk to see for myself what has happened to the structure. It was intended to be one of the flagships, but as you can see, it has suffered complete abandonment."
He lamented that while the old Pilgrims Baptist College had no pupils, it however had a principal and teachers.
Said he: "the Local Government Chairman told me that although there are no pupils in the school, we do have teachers including a principal. I'm sure that the honorable Commissioner for Education is as anxious as myself to find out the daily workload of the principal and the teachers who are still here."
On plan to return some schools to missions, Governor Oshiomhole said: "one thing we can do to prevent the rot we witnessed in the past and stop future governments from de-boarding schools and reducing flagships to abandoned territories is that we may have to consider the possibility of returning schools that we cannot manage to those missions that can manage them and do a memorandum of understanding to ensure that the children of the poor have access to these quality schools.
"This is a matter that we have to reflect on and resolve very quickly otherwise it would be one step forward and two steps backward and no society makes progress that way."
Restating the government's determination to reposition education in the state, Oshiomhole said: "I appreciate that we must continue to make the right investment in education because that is the future of our people. I believe that the greatest legacy we can give to our children is education. If we give them education, they can go out there and navigate, but without education, even the roads we are building, our people won't be able to maintain them."
Speaking earlier, the state Commissioner for Education, Mr Ekpenisi Omorotiomwan said the school, when completed, will be made up of two blocks of 27 standard classrooms, three fully equipped science laboratories, a fully stocked library, students' canteen, 1,500 capacity hall and sporting facilities.
The highpoint of the ceremony was the laying of the foundation of the new model college.
By Yomi Obaditan/Benin

Load more