Five girls were found dead this morning in Ikeja, Lagos State, Southwest Nigeria, after yesterday's heavy rains forced them to sleep in a poorly ventilated room in their restaurant where they worked.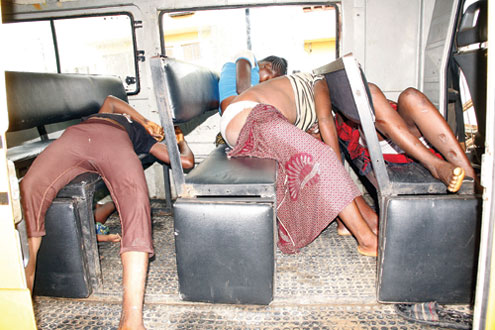 The corpses of the four teenage-girls and a baby-girl, aged between three months and 18 years, were discovered this morning inside the stuffy room on Allen Avenue in Ikeja.
Neighbours told P.M.NEWS that the girls may have died of suffocation overnight in the room where they sought refuge after rains wreacked havoc in Lagos yesterday.
Two other girls, who also slept in the same room, were still in critical condition at Bodet Hospital at Alausa in Ikeja, it was gathered. They were said to be responding to treatment.
The five corpses were brought to Area F Police Station in Ikeja early today in a commuter bus.
P.M.NEWS learnt that a mother and her three-month-old girl were among the dead.
The victims, it was gathered, were brought sometime ago from neighbouring Benin Republic to work in a restaurant in Lagos. The restaurant owner, who was at the police station this morning, disclosed that she had brought them from Benin Republic to train them.
The two other girls still battling for life at Bodet Hospital, our correspondent gathered, are Nigerians.
The woman, walling at the station, disclosed that she had asked the girls to cook outside their restaurant yesterday and stay in the restaurant until the rains stopped.
"My girls don't usually sleep in the restaurant," she said, "I did not know that they slept in the restaurant yesterday. I asked them to cook outside the restaurant when they phoned me and said that water had entered the restaurant."
"This morning, as I kept calling them, nobody was picking. I was worried and someone picked the call and told me that my girls are dead. I rushed here to confirm it. I can't believe what I am seeing," she lamented.
A man, who claimed to be the brother of one of the dead girls, was weeping at the station this morning.
Neighbours and friends who besieged the police station this morning wept and expressed shock. The five corpses were later taken to the Lagos State University Hospital, LASUTH.
—Simon Ateba

Load more