Several people died while others sustained injuries as houses and fences collapsed after yesterday's torrential rain that lasted over 14 hours flooded Lagos and parts of Ogun State in Southwest Nigeria.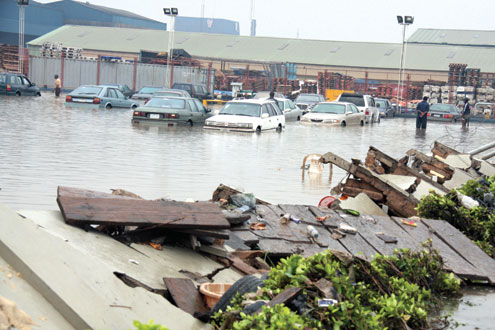 Commuters were stranded at various bus stops across Lagos as flood submerged roads and rendered mobility impossible. In many areas, the drainage channels, canals and the roads were swallowed up by flood.
Many cars and commuter mini-buses broke down, causing severe traffic jams on major roads. Many stranded residents who had to trek got to their homes about 2 a.m. today.
The rain had started very early in the morning and did not abate until midnight after it had wreaked havoc in the metropolis.
Areas such as Victoria Island, Ikoyi, Apapa, Ijaiye Road, Ogba, Akilo, Abattoir, Aboru, Egbeda, Iyana Ipaja, Kola, Ajegunle, Ojota, Yaba, Mushin and many others were flooded as motorists spent hours before they could wade through.
At Aboru area, in Alimosho, flood sacked residents as they did not sleep in their houses which were submerged. Motorists who tried to wade through the area were stuck for several hours. Unconfirmed report had it that the flood swept away four persons at Aboru, one of them a child. It was gathered that as the flood sacked a house in the area, a woman was trying to rescue one of her children while the other strapped to her back fell inside the water and was swept away.
The woman was said to have wept uncontrollably as residents tried to console her.
Residents of 16, Adesokan Street, Dopemu Agege wailed uncontrollably this morning as fire and safety officials of the Lagos State government from Agege removed the corpse of a 22-year old Muri Olanrewaju who died inside a soak-away.
It was learnt that Olanrewaju returned from a journey and wanted to enter the house but slipped into the soak-away that was already submerged by flood.
Similarly, in Akara area of Alagbado, a yet to be identified young man, about 25 years old, was killed yesterday night when a wall fell on him. He was said to be returning home from an outing when the fence weakened by the flood collapsed on him.
He died instantly. The late man's fiancee is said to be pregnant and they were billed to be wedded next month. His remains were being buried this morning.
An unconfirmed report this morning indicated that an unidentified woman and her baby were among casualties the flood swept away in Aboru and Ile Epo areas near Iyana Ipaja, Lagos.
A source told P.M.NEWS this morning that two okada riders died last night while they were trying to manoeuvre their way through the flood. They ended up being swept away, according to the source.
A seven-year old boy, Musiliu Hassan was yesterday killed by the collapsed fence of Herbert Macaulay Primary School, Makoko, Yaba, Lagos State, Southwest Nigeria.
During the incident, his father, Musa Hassan, 40 sustained injuries and was rushed to the National Orthopaedic Hospital, Igbobi, Lagos for treatment.
Also affected by the incident, Musiliu's sister, Rukayat Hassan was rushed to a nearby private hospital. She has since been in a coma.
Meanwhile, a neighbour who pleaded anonymity has appealed for assistance on behalf of Musa Hassan and his family.
He said: "Musa Hassan has no wife. His wife left him sometime ago. He has been catering for his children alone. We (neighbours) assisted him to bury his dead son, Musa at Atan cemetery. We paid where necessary to perform all the burial rites."
P.M.NEWS learnt that the school fence had been contracted to a contractor to renovate two years ago.
In Ifako-Ijaye area, a 13-year old boy called Yomi, said to be the son of a police officer, was buried alive this morning when the house where he lived with his parents collapsed.
P.M.NEWS learnt that the building located at Unity Street near the canal, off Aina Ajobo Street close to Ifako-Ijaye Local Government Secretariat, collapsed as a result of the heavy rain.
Another teenager is still said to be buried inside the debris of the collapsed building and local diggers were making efforts this morning to recover the body.
It was learnt that five other houses in the area collapsed yesterday while property worth millions of naira were lost to the flood.
A landlord in the area, Chief Bamidele Ojedina a.k.a. Oluwo described one of the collapsed houses as an old building which had been deserted because of its dilapidated state.
P.M.NEWS gathered from residents that more lives might be lost to future floods in the area except the Lagos State government takes necessary action to avert the looming disaster.
As at this morning, at least 10 houses had been swept away by the flood. Residents of Aina Ajobo, Irawo Ojo, Adebiyi streets were busy trying to salvage some of their belongings from the flood. As at the time of filing this report, a house had collapsed at Adebiyi Street.
At Alapere, Ketu, massive flood sacked houses in the area as residents, both rich and poor, used buckets to bail out water from their houses after the flood had destroyed their belongings. There were wailings everywhere as flood water swept through many homes. Women quickly took their children to safety to avert calamity.
Mr. Godwin Ikpeahai, a resident at Alapere said he watched from his two-storey building as flood sacked several houses. He said the magnitude of the flood was unimaginable as residents wailed while cars were ostensibly swimming in the water.
Many residents slept in their cars while pubic schools were shut today to prevent pupils and students from any harm occasioned by flood.
No part of Lagos was spared by the flood as thousands of houses were sacked by the deluge. It was apparently the heaviest rain to have fallen this year. Several Lagosians have narrated the ordeal they went through yesterday, describing it as horrible and never wanted to experience such again.
A staff of Vanguard newspaper, described his experience in the rain as terrible, saying that he left Surulere area in his car about 4.30 p.m. to get to his home at Abule Egba and could not get home till 12 midnight.
According to him, everywhere he took was blocked as there was hardly traffic movement, saying that he had never experienced that type of rainfall and traffic gridlock before.
A staff of the Lagos State Government, who preferred to be called Adekunle, narrated his ugly experience, saying that he left Ojota about 4.00 p.m. in his car but could not get home in Alimosho until past 12 midnight. He said when he saw that Iyana Ipaja was blocked, he decided to take Aboru, a decision he later regretted, saying that he spent four hours to wade through the flood at Aboru.
A staff of P.M.NEWS, Deaconess Titilayo Kolawole, who lives at Ijoko area of Ogun State, could not get home till 2 a.m. today after leaving office at Acme Road, Ogba, at about 8:00 p.m. yesterday.
According to her, she trekked from Ogba to Agege and got trapped in the traffic between Agege and Abule Egba. When it was getting late, she dropped off the bus and trekked to Abule Egba where she got a cab that took her home. The harrowing experience made her fall sick as she had trekked several kilometres in the rain last night.
In Surulere, a resident in the area, Taiwo Olapade, said the flood wreaked havoc there as many areas were flooded and traffic was stalled.
A flood victim, Edna, appealed to the governors of Lagos and Ogun states to come to the aid of the flood victims in the area.
The only bridge that links Ipaja and Ayobo with Itele-Ayetoro was submerged by the flood while okada riders and motorists could not ply the roads any longer.
In the Surulere area of the metropolis, residents and stranded commuters paid N100 to canoe operators to move them from one point to the other.
A resident, Pastor Wale Dada, said most roads in Surulere have been rendered impassable.
"The whole place has become impassable; it is unbelievable. The Karounwi canal is flooded and the bridge is submerged. Canoe operators collect N100 to carry people from one end of the place to the other.
"You know that the Akerele road is undergoing construction; that place is impassable. Adeniran Ogunsanya is a no-go area right now. The situation is terribly bad."
A resident in Alapere, Ketu, said, "most parts of the area are flooded; our own place is a bit better because it is located on high ground, but the whole estate is flooded. A car in our compound is almost completely submerged in flood. Most people are trying to salvage what they have in their houses in this place."
A motorist in Ijeshatedo in Itire Local Council Development Area, Mr. Abayomi Ogunremi, said the water level in the area had reached his car's bonnet.
"The whole area is covered with water. In most places, you cannot see where the road is and where the drains are. Everywhere is under water. Until the government takes decisive steps to address the flooding in the state, anybody who values his life should not leave his house when such rain falls," Ogunremi said.
At Agric Junction in Ikorodu, a motorist said he and other motorists spent about two hours before they could pass through the flooded area.
"It was a terrible situation. There was a severe traffic jam as no vehicle was moving. Confusion became the order of the day. Apart from the road, most houses near the road were submerged by the flood and residents were helpless," the motorist said.
At the Ketu end of Ikorodu Road, motorists were caught up in heavy traffic and hundreds of passengers were seen at bus stops waiting for buses that never came. A motorist, who identified himself simply as Kayode, told one of our correspondents that the flood was unprecedented.
He said that as a result of the heavy traffic, some commuter bus drivers veered into the dedicated lane for Bus Rapid Transit, thereby creating greater confusion on the road.
The residents of Akoka, Afolabi Brown, Adeyinka, Osijo, Funmilayo Onoronke, Bello and Obadiah streets, and parts of Community Road, were the worst hit in Yaba.
One of the residents, who was at work during the rain, got a call from his wife, asking him to return home because their apartment had been taken over by flood.
At Jibowu, Herbert Macaulay and Murtala Mohammed roads, many motorists abandoned their vehicles in the floods as vehicles broke down, clogged the road and made movement impossible. Two popular motor parks, Chisco Motors and Ifesinachi motor parks at Jibowu, were heavily flooded also.
At Shasha area, Orisumbare, Alebiosu, Jimoh streets were seriously flooded as the areas lacked drainage channels. Many worshippers in Orisumbare were unable to reach their churches.
Meanwhile, the Lagos State Government said it recognised that yesterday's rain had been heavier than normal, saying that the flood was as a result of the rise in sea level and that it had earlier warned Lagosians to prepare for heavy rains as predicted by the Nigeria Institute of Meteorology, NIMET.
Commissioner for the Environment, Mr. Tunji Bello appealed to Lagosians to remain calm, saying that the water level had risen incredibly so that the channels that were meant to discharge water from the roads and drainage were completely blocked because of the high tide.
The high tide was caused "because both the Atlantic Ocean and the Lagoon that receive water from our channels have risen adding more than usual. Our men are on the field working to manage this situation," Bello said.
Also, experts have said that yesterday's rainfall was measured at 233 mm, for instance, equivalent to about 28 million units number of 30,000 litres tankers that was unleashed on Lagos between 8.00 am and 10.00 p.m.
According to the Ministry of the Environment, the Atlantic Ocean also refused to allow the water to discharge easily until this morning.
As a result of the heavy rain, Governor Babatunde Fashola directed that all public schools in the state be shut as government assesses the impact of property damaged by the flood, saying that the state would not allow any child to be affected by the incident.

Load more