Edo State Governor, Comrade Adams Oshiomhole, this morning signed into law the new minimum wage bill.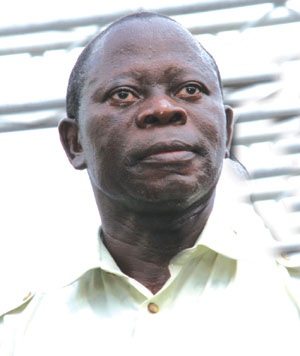 The minimum wage of N18,000 has been causing ripples among workers and state governors across Nigeria.
Oshiomhole signed the law this morning in his office in Benin City, the Edo State capital, with the Chairman of the state chapter of the Nigeria Labour Congress, Emmanuel Ademokun, in attendance.
Speaking after signing the agreement, the governor said the state Ministry of Finance has been directed to start the implementation of the minimum wage and pay arrears from 1 June, 2011.
"It is not a reflection of the size of our pocket but merely a reflection of our will and our wish to do what is right for our workers," the governor said. The state NLC chairman, Comrade Ademokan thanked Oshiomhole for the gesture, saying he is one of the first governors to implement the new minimum wage.
Ademokun, however, pointed out that there are two sectors not covered by the minimum wage; they are teachers and judicial workers who will have to negotiate with the governor in view of the peculiarities on their salary scales.
Responding, Oshiomhole promised to negotiate with them as soon as possible.
—Yomi obaditan/Benin