The Ondo State Government has restated its commitment to continuously empower the women in the state to engender positive transformation and the rapid socio-economic development of the state.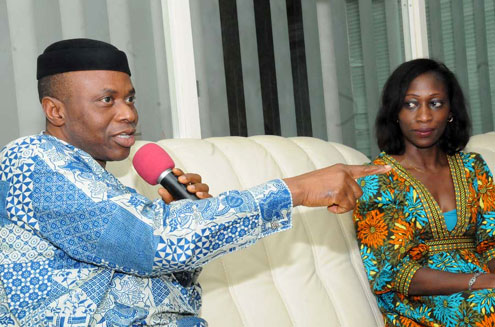 This was disclosed by the Governor, Dr. Olusegun Mimiko during a courtesy visit by the daughter of the late Bashorun MKO Abiola and Kudirat Abiola, Mrs Hafsat Abiola-Costello, who is also the founder of Kudirat Initiative for Democracy, KIND, in his office, in Akure the state capital.
The governor, who lauded Hafsat for her doggedness and commitment to democratic norms, emphasized the necessity of giving the Girl Child compulsory education for an all-round development of the society.
Mimiko said the present administration in the state decided to place more emphasis of the development of women and children because of their vulnerability in the society. He cited the Abiye programme which he said has become a template for other African countries as one of the numerous programmes in this directive.
The Governor promised the commitment of the State Government to support the Kudirat Initiative for Democracy, towards empowering women in Nigeria.
In her remark, Hafsat lauded the numerous people-oriented programmes of the present administration in the state, adding that the Caring Heart mantra of the present government in the state is a thing of pride to the citizens both at home and in Diaspora.
She was full of praises for the Governor Mimiko-led administration for the numerous developmental projects it had embarked upon.
She said she was particularly pleased to see concrete developmental projects going on in several of the citi es in the state as well as deliberate efforts at uplifting thewomenfolk, developments which she noted were unprecedented since the creation of the state.
She had solicited for the help of the governor in ensuring that her desire to initiate a centre in honour of her departed mother, Kudirat in Abuja becomes a reality.

Load more