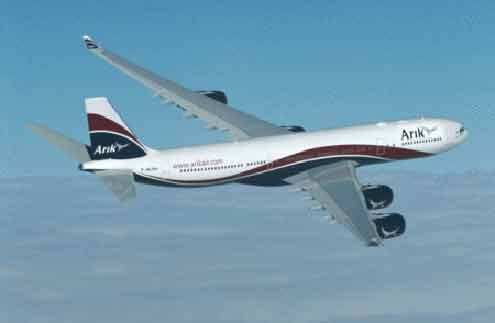 The newly appointed Minister of Aviation, Princess Stella Ada Oduah, has given Arik Air, thirty days ultimatum to pay off over N2 billion debts to the National Airspace Management Agency, NAMA, or be grounded.
The minister gave the ultimatum at the end of a two-day visit to the Federal Airports Authority of Nigeria, FAAN, the National Airspace Management Agency, NAMA, the Nigerian Civil Aviation Authority, NCAA and other aviation agencies in Lagos, Southwest Nigeria.
The minister said that the amount involved shocked her, adding that she wondered why the airline was allowed to owe such an enormous amount of money.
Ada Oduah also warned other stakeholders in the industry to sit up or be disciplined.
She warned FAAN staff to change their lackadaisical attitude to work or be disciplined, saying that the old ways will no more be tolerated.
"FAAN must change its attitude to work, you must know that the dynamics of air transportation have changed and you must therefore change with the times," she said.
She urged the management of FAAN to clean up the rot at the airports, upgrade facilities, embrace and adopt new technologies and put customer satisfaction first.
"It has to be customer, customer, customer and customer all the way if you intend to remain in business," the minister told FAAN management in her maiden briefing to them.
The minister also ordered NAMA to kick start steps for the implementation of a single total radar coverage of Nigeria and stop what currently is being done with various radars covering different parts of the country.
"We need to have a total national radar coverage as a nation, that is just one radar to cover the entire country and I know it is doable and that has to be done now," she said.
On the numerous landed properties of NAMA scattered across the country, the minister directed that modalities be immediately put in place to get rid of them, explaining that they no longer have any direct bearing on the operations of the agency.
She added that anything that does not add value to the operations of the parastatals must be jettisoned immediately.
The minister also directed that the basement of MMIA must be immediately reopened. The basement has not been used for many years and sources said that it is filled with refuse.
She also set up a six-man committee to discuss ways of bringing down the high cost of Jet A1 as aviation fuel is known.
Her agenda, she said, will include improvement of security in and around the nation's airports, safety in the skies, efficient services at the airport for travellers' comfort, and the adoption of strategies for enhanced government-private sector partnership for the development of the aviation sector in the country.
—Simon Ateba

Load more